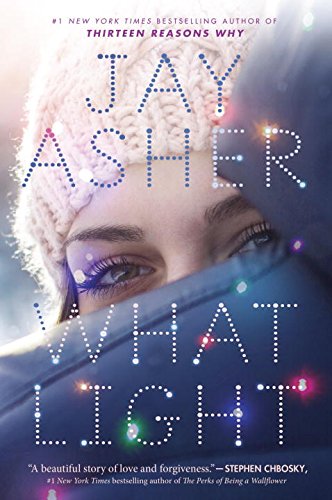 Publisher's Note:
From Jay Asher, #1 New York Times bestselling author of Thirteen Reasons Why, comes a romance that will break your heart, but soon have you believing in love again. . . .

"A beautiful story of love and forgiveness."
—Stephen Chbosky, New York Times bestselling author of The Perks of Being a Wallflower

Sierra's family runs a Christmas tree farm in Oregon—it's a bucolic setting for a girl to grow up in, except that every year, they pack up and move to California to set up their Christmas tree lot for the season. So Sierra lives two lives: her life in Oregon and her life at Christmas. And leaving one always means missing the other.

Until this particular Christmas, when Sierra meets Caleb, and one life eclipses the other.

By reputation, Caleb is not your perfect guy: years ago, he made an enormous mistake and has been paying for it ever since. But Sierra sees beyond Caleb's past and becomes determined to help him find forgiveness and, maybe, redemption. As disapproval, misconceptions, and suspicions swirl around them, Caleb and Sierra discover the one thing that transcends all else: true love.

What Light is a love story that's moving and life-affirming and completely unforgettable.
This book was sent to Compass Book Ratings for review by Razorbill
What Light
by Jay Asher
Overall Review:
Bestselling YA author of, Thirteen Reasons Why, Jay Asher brings some holiday cheer with his latest novel What Light.
Centered on the Christmas season, What Light follows protagonist Sierra and her juxtaposition of juggling two lives. 16-year-old Sierra lives on her family's Christmas tree farm in Oregon eleven months out of the year, but every holiday season she packs up and moves to California for a month to help sell her family's crop on a tree lot.
This is a sweet teen romance novel that feels reminiscent of a Hallmark special. It has everything you could want to help put you in a festive spirit – ugly sweaters, cookie making, candy canes, hot cocoa, town parade, charitable giving, and more – it's like a stocking stuffer full of merriment.
But as the plot dictates there must be some conflict, so that comes in the form of a boy named Caleb, with a less than impeccable past. Even though her friends at first encourage a holiday romance, Sierra is less than enthusiastic about it until she meets said boy Caleb. He is charming, kind, and takes his cocoa the same as Sierra (so it must be a sign!). However, its rumored he has a violent history. This rumor has a snowball effect. The build-up is so much, that for older readers it may feel like over kill, but for the intended audience it adds the right amount of drama.
In YA style, there is a lot of love struggle. Should I, or shouldn't I? Will this last? My friends don't understand! My family doesn't understand! It's a song and dance readers have heard before, but with the Christmas background of hope, redemption, and forgiveness it's still entertaining, and a light enough read that tweens and teens will gravitate towards.
A great book if you have a female teenager on your nice list; What Light is sure to make a joyful recipient.
Review of an Advance Reading Copy
Content Analysis:
Profanity/Language: 2 religious exclamations; 2 mild obscenities.
Violence/Gore: Joke of violence (about 7x); rumor character was violent with their sibling (about 2x); extended scene (about 1 page) character recounts going after their sibling in a threatening manner with a weapon.
Sex/Nudity: Teen girls remarks on another girl's large chest; teen girls tease their friend about being into older men; female notices attractive males; individuals are referred to as hot (2x); married couple kiss (2x); implication of kiss; many instances of flirtatious behavior and/or flirtatious teasing; kiss on cheek; hand holding (about 13x); few mentions of making out; few romantic touches (shoulder or face); extended scene (about ¼ page) teens lay on top of each other kissing; brief kisses (about 11x); embrace (about 4x); declaration of love.
Mature Subject Matter:
Financial concerns, divorce.
Alcohol / Drug Use:
Remark that a teen was pulled over with an open container of alcohol in the car; joke about alcoholism; mention that teen has volunteered to be a group of teens' designated driver.
Reviewed By MaryLou