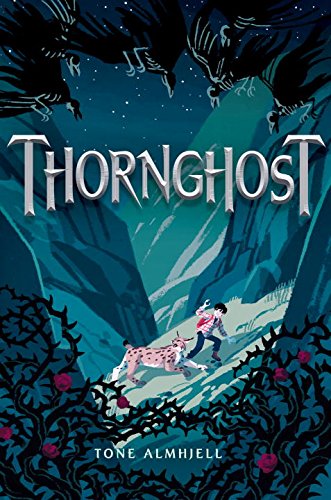 Publisher's Note:
Fans of Gregor the Overlander and Five Kingdoms will love this alternate-realm fantasy full of heart-racing action

Strange things are happening around Niklas Summerhill's home. A green-eyed beast is killing animals in the woods, and the nightmares that have haunted Niklas since his mother died grow more terrifying with every night. When the beast turns out to be a troll brought to life from his own games, Niklas knows he has to stop it. With the help of his lynx companion, Secret, he finds the source of the magic: a portal to another world. But this realm, once the home of peaceful animals, is also in danger. The evil Sparrow King is hunting down the few survivors from a devastating war, and a dark, blood-thirsty plant is infecting the valley. Niklas must try to save both worlds. But first he has to uncover the truth about his mother's last words: "I'm a Thornghost."

From the author of The Twistrose Key comes a fantasy brimming with intriguing mystery, fast-paced action, and a cast of unforgettable human and animal characters.
This book was sent to Compass Book Ratings for review by Penguin
Thornghost
by Tone Almhjell
Overall Review:
Thornghost by Tone Almhjell feels like what would happen if Neil Gaiman wrote a story of Narnia. This book is hesitantly rated for ages 9 and older since there is very little violence literally depicted, but be warned that the entire story has a very macabre flavor. It begins with the death of the main character's mother and doesn't much improve from there. There are bird skeletons, bones, hints of madness, dead pets and other animals, nightmares, and marauding trolls all over the place. The first third of the book moves pretty slowly. It does eventually pick up but it takes a little while to get there. One does gain a liking for most of the characters, but there still seems to be a bit of a disconnect--as if the reader is missing some details that are assumed but never really given. There is a lot of reading between the lines for the story to really connect, and it is questionable if most middle grade readers would be able to do that. Overall an interesting book with some unpredictable twists; once you get past the beginning you have a pretty decent Edgar Allen Poe-flavored fairytale.
Content Analysis:
Profanity/Language: None
Violence/Gore: Large frightening beast chases characters; creepy nightmares described; character finds a lamb slashed and dead; characters enter old crypt; characters minorly cut and threatened with death; deaths by poison reported; battle with skeletal birds; a character is mortally wounded; description of drowning/near-drowning; character slashed across the face; threats of death; characters pinned and battle giant thorns; character writes in his own blood; battle viewed from a distance; threat of death.
Sex/Nudity: None
Mature Subject Matter:
Death of a parent, death (and more death), hints at insanity.
Alcohol / Drug Use:
Characters drink mead.
Reviewed By Kristen