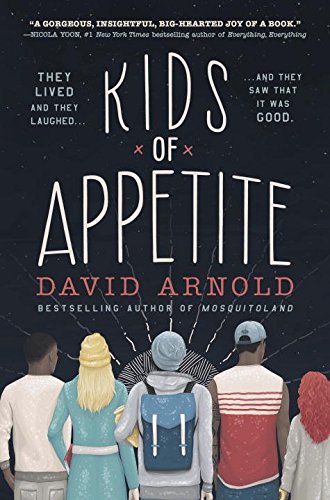 Publisher's Note:
The bestselling author of Mosquitoland brings us another batch of unforgettable characters in this tragicomedy about first love and devastating loss.

Victor Benucci and Madeline Falco have a story to tell.
It begins with the death of Vic's father.
It ends with the murder of Mad's uncle.
The Hackensack Police Department would very much like to hear it.
But in order to tell their story, Vic and Mad must focus on all the chapters in between.

This is a story about:

1. A coded mission to scatter ashes across New Jersey.
2. The momentous nature of the Palisades in winter.
3. One dormant submarine.
4. Two songs about flowers.
5. Being cool in the traditional sense.
6. Sunsets & ice cream & orchards & graveyards.
7. Simultaneous extreme opposites.
8. A narrow escape from a war-torn country.
9. A story collector.
10. How to listen to someone who does not talk.
11. Falling in love with a painting.
12. Falling in love with a song.
13. Falling in love.
This book was sent to Compass Book Ratings for review by Viking Books for Young Readers
Kids of Appetite
by David Arnold
Overall Review:
Offbeat humor, swift satire, and an unforgettable cast of misfits, rhythmically culminate in David Arnold's most recent work, Kids of Appetite.
From the start, readers are introduced to the book's two protagonists-- each in adjoining interrogation rooms in their hometown's police station; each with a story to tell; each story colliding into one.
Vic and Mad's first person duel narrative speaks of difficult subjects – death, abuse, and a rare disorder. But these subjects are balanced out with a beautiful thing called love – first love, lasting love, and love of life. These two individuals, are original and wholly their own. However, when they start to become introspective about life, their perspectives are so similar that it runs together and becomes an entanglement of thoughts from one person, rather than two. Don't let this incongruity put you off though, because it is beautiful, purposeful cerebration. Stylistically speaking, it is reminiscent of the phonetic algorithm that has become popular on the YA sphere since the introduction of John Green's, The Fault in Our Stars.
Just try not to fall in love with the expansive cast that make up the KOA gang! They are quirky, clever, and hungry for life. They may have tragic pasts, but together, they're trying to make the best of their futures. Secondary characters or not, they're just as important to the story and add just as much linguistic charisma and intensity to the simultaneous extreme opposites – pain and love.
This novel is perfect for the reader who enjoys being carried away on a philosophical rhapsody that chants of hope and substance.
"We are all part of the same story, each of us different chapters. We may not have the power to choose setting or plot, but we can choose what kind of character we want to be."
-quote from uncorrected proof
Review of an Advance Reading Copy
Content Analysis:
Profanity/Language: 19 religious exclamations; 15 mild obscenities; 1 religious profanities; 3 derogatory names; 66 scatological words; 19 anatomical terms; 31 F-word derivatives. Note: The acronym WTF is used once, this is not tallied.
Violence/Gore: Mention of murder (about 3x); mention of self-harm (about 3x); humorous thought or occurrence of violence (about 7x); teen tells of being in a car accident caused by a drunk driver, death + injury (about 2x); brief mention of street alley known for drug running and muggings; remark about abusive relative and adolescent's injuries caused by abuse (about 3x); extended scene (about ¼ page) report of adult receiving severe beating putting him/her in coma; extended scene (about 1 page) memories of witnessing violence as a child during a civil war and fleeing home, becoming a refugee; threat or implication of violence (about 4x); memory of child abuse (about 2x); brief comment of teen's violent death that involved alcohol; character reveals they purposefully hurt themselves, this and their self-induced injuries are mentioned a few times throughout the novel; character reveals their injuries from abusive relative; character harms themselves; extended violent scene (about 1 page) adult relative restrains and hits adolescent, adult is hit in the head hard with an object; threat of violence against an animal, animal is later found dead (most likely murdered); extended violent scene (about ¼ page) adult chokes and holds sharp object to adolescent's throat; violent extended scene with brief description of blood and gore (about 1 page) characters punch each other, character intentionally stabs and kills another character; report of violence (about 2x); comment on murdered parent and sibling.
Sex/Nudity: Character talks about love; kiss; mention of animal procreation farm and artificial insemination (about 2x); slang for male genitalia (about 10x); kiss on cheek; sexual innuendo; teen male admires female teen few times; child is embarrassed by parents' and grandparents' displays of physical affection; a few times male becomes sexually aroused; joke about stripping down to underwear to make out in a hot tub; child sees picture of tattooed male genitalia; extended scene (about ¼ page) character descriptively thinks about kissing another character; joke about homosexuality; actor is referred to as hot; few mentions of holding hands (about 3x); romantic moment; desire to kiss (2x); child walks in on a situation that indicates their parent is being sexually unfaithful to their spouse with spouse's relative; remark about parent's sexual infidelity with spouse's relative; descriptive kiss (about ½ page); long embrace; sexual reference (about 2x).
Mature Subject Matter:
Neurological disorder, police investigation, murder, death of parent(s), child abuse, terminal illness, self-harm, refugee.
Alcohol / Drug Use:
Teen smokes throughout book; alcoholic guardian; fatal car accident caused by drunk driver; desserts with alcohol as an ingredient; brief mention of street alley known for drug running and muggings; adult mentions drinking as a teen; indication that individual had been a drug addict; brief comment of teen's violent death that involved alcohol.
Reviewed By MaryLou