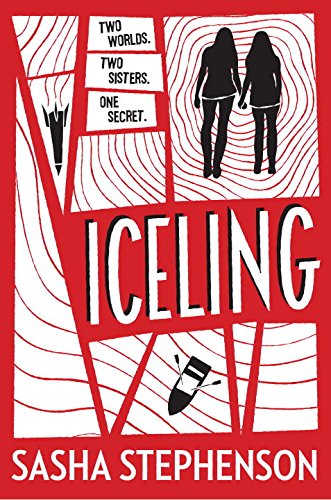 Publisher's Note:
The first book in a new and utterly original sci-fi series that's perfect for fans of Under the Never Sky and The Darkest Minds, about the strange, strong bond between two sisters, one of whom cannot speak or understand any human language.

Seventeen-year-old Lorna loves her adoptive sister, Callie. But Callie can't say "I love you" back. In fact, Callie can't say anything at all.

Because Callie is an Iceling--one of hundreds of teens who were discovered sixteen years ago on a remote Arctic island, all of them lacking the ability to speak or understand any known human language.

Mysterious and panicked events lead to the two sisters embarking on a journey to the north, and now Lorna starts to see that there's a lot more to Callie's origin story than she'd been led to believe. Little does she know what's in store, and that she's about to uncover the terrifying secret about who--and what--Callie really is.
This book was sent to Compass Book Ratings for review by Penguin Group
Iceling
by Sasha Stephenson
Overall Review:
Quite possibly one of the most creative plot lines I have read in quite some time. And I read…a lot. Iceling is the story of orphans (and one in particular) who were found above the arctic circle sixteen years ago, as babies. Alone. Unaccompanied. And they are all completely silent.
One of the other facets of this book I really enjoyed was the sibling love. I find it rare to find books these days where sisters and brothers love each other to the extent they are willing to sacrifice to see the other one flourish and be where they belong. This is a great story of self-sacrifice and brotherly love. Even when the siblings of the Icelings are faced with mortal danger, they selflessly choose to continue in their mission to bring their siblings home.
The only drawback I found to this book was wordiness. There are several instances where the dialogue is just too wordy. Some cases are of inner monologue a character is having and some cases are between characters. The book would have benefited from fewer words and more brevity. But once you get past those few areas, the story and characters are a delight.
If you're looking for an imaginative book with enough twists and turns to keep you turning pages, this one is for you.
Review of an Advance Reading Copy
Content Analysis:
Language: 50 religious exclamations; 84 mild obscenities; 6 religious profanities; 24 scatological words; 2 anatomical terms; 1 offensive hand gesture; 2 f-word derivatives.
Violence/Gore: Adult threatens to break bone of teenager; report of a broken nose; fall down the stairs with bumps and bruises; teenager fights with animal, crushing bones and throws over cliff; missile blows up foot of ice creature; teens have fist fight with soldiers; drones are smashed twice; bomb blows up raft teens are on (no injuries); teen punches solider in face resulting in blood dripping; blood drips from teens mouth; soldiers fire weapons (guns, flamethrowers) into crowd of teens killing some in four page extended scene; solider shoots another solider in head resulting in death.
Sex/Nudity: Kiss twice; kiss on cheek twice; hug; holding hands twice; reference to having sex.
Mature Subject Matter:
Death of child and family members, abandonment of children, ethics, use of fake ID.
Alcohol / Drug Use:
Teen throws kegger house party with underage drinking.
Reviewed By Beckie