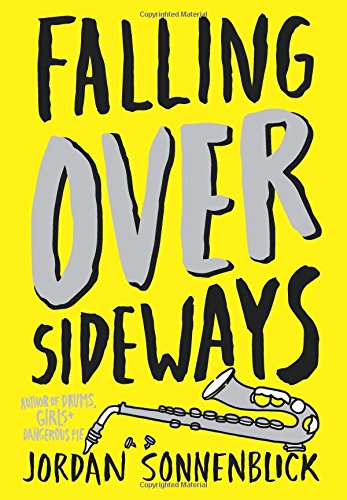 Publisher's Note:
It's not easy being Claire. (Really.)

Claire's life is a joke . . . but she's not laughing. While her friends seem to be leaping forward, she's dancing in the same place. The mean girls at school are living up to their mean name, and there's a boy, Ryder, who's just as bad, if not worse. And at home, nobody's really listening to her -- if anything, they seem to be more in on the joke than she is.

Then into all of this (not-very-funny-to-Claire) comedy comes something intense and tragic -- while her dad is talking to her at the kitchen table, he falls over with a medical emergency. Suddenly the joke has become very serious -- and the only way Claire, her family, and her friends are going to get through it is if they can find a way to make it funny again.
This book was sent to Compass Book Ratings for review by Scholastic Press (A Scholastic Imprint)
Falling Over Sideways
by Jordan Sonnenblick
Overall Review:
Author Jordan Sonnenblick once again delivers a beautifully endearing novel about the struggles of growing up, and the increasing difficulty of doing so in the midst of a crisis in Falling Over Sideways.
Protagonist Claire may have a flair for dramatics, but she's about to learn all that seems unfair in her life really doesn't compare when her vivacious dad suddenly takes ill.
"My dad never once failed to catch me. But now things are different. Now my dad could barely even catch himself."
In first person format, Claire animatedly chronicles a year in her not so fabulous life. Because the narrative of her family starts before her dad gets sick, readers get a feel for what Claire truly loses after her dad's attack. A range of emotions takes place for Claire (and readers right along with her) --fear, anger, despair, and most longingly...hope.
This is the author's first book that has a female protagonist and the narrative is freakishly authentic, coming from a female, I have to say he totally nails it! Incredibly empathetic, Mr. Sonnenblick realistically composes a situation and characters that elicit everything a middle-schooler ever thought. Seriously, how does Sonnenblick create such believable circumstances that leave you sobbing and laughing all at once?!
From school, friends, frenemies, extra-curricular activities, and most importantly family, everything in this novel rings pitch perfect (even when the protagonist does get on your nerves.) So, if you were ever a fan of Judy Bloom or Beverly Cleary when younger, this is a must read – adults and tweens alike.
More books from Jordan Sonnenblick:
Drums, Girls, & Dangerous Pie (Drums, Girls, & Dangerous Pie #1)
After Ever After (Drums, Girls, & Dangerous Pie #2)
Curveball: The Year I Lost My Grip
Content Analysis:
Profanity/Language: 18 religious exclamations; 1 derogatory name; 1 anatomical term. Note: not tallied, character refers to something as hellish; character says 'h-e- double -hockey-sticks'; a few times the word beep is used instead of an actual swear word.
Violence/Gore: Several (around 10+) incidents in which character makes a humorous reference to violence; teacher slaps child's hand; brief report of violent accident; extended scene (about ½ page) report of historical individuals who died violently; character witnesses injuries while in the ER waiting room; report of object hitting male in private area.
Sex/Nudity: A few times in which female character makes reference to menstrual cycle; character's teenage sibling dates; mention of young teenage boys drawing private parts (2x); report of object hitting male in private area; sexual joke; few mentions of having a crush/character liking another character/flirting; teen male and female embrace in a friendly manner.
Mature Subject Matter:
Child(ren) must deal with parent's illness/extended medical care/medical emergency.
Alcohol / Drug Use:
Character witnesses a drunk individual; medications mentioned.
Reviewed By MaryLou