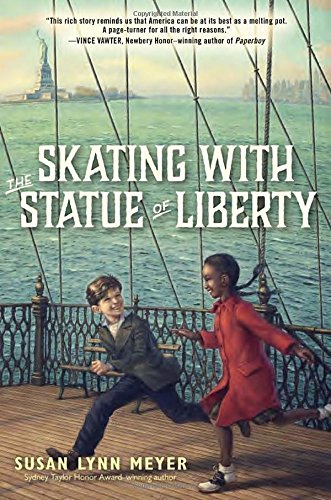 Publisher's Note:
In this gripping and poignant companion to Sydney Taylor Honor Award winner Black Radishes, Gustave faces racism and anti-Semitism in New York City during World War II, but ultimately finds friendship and hope.

After escaping the Germans in Nazi-occupied France, Gustave and his family have made it to America at last. But life is not easy in New York. Gustave's clothes are all wrong, he can barely speak English, and he is worried about his best friend, Marcel, who is in danger back in France. Then there is September Rose, the most interesting girl in school, who doesn't seem to want to be friends with him. Gustave is starting to notice that not everyone in America is treated equally, and his new country isn't everything he'd expected. But he isn't giving up.
Skating With the Statue of Liberty
by Sarah Lynn Meyer
Overall Review:
The year is 1942 and Gustave and his parents have narrowly escaped from Nazi occupied France. As French Jews, they realize how lucky they are to be coming to America, but getting out of France is just the first of many challenges. Author Susan Lynn Meyer brings to life the story of her father's account of coming to America in this riveting historical fiction novel, Skating with the Statue of Liberty. As 13-year-old Gustave and his parents find their way to New York City and get settled, they tackle the many obstacles head on with determination. However, things aren't exactly as they dreamed it would be, especially for Gustave.
Skating with the Statue of Liberty is somewhat of a coming of age story for Gustave. While he had to deal with extremely hard things as a Jew in occupied France, in America he feels like he has completely lost his footing. He has to learn a new language, make new friends and still deal with prejudices, because he is Jewish. He soon realizes he's not the only one dealing with prejudices though. His new friend, Summer Rose, has had to deal with them too, but because of the color of her skin. Gustave realizes through his friendship with Summer Rose that even America has it's problems to overcome and he can do his small part to help that happen.
The courage and bravery that Gustave demonstrates in Skating with the Statue of Liberty makes this a truly empowering novel, showing how one person can make a difference. The parallel stories of Gustave and Summer Rose, who are both dealing with forms of prejudice make this novel enlightening as well, giving the reader a different perspective on the events of this era. Skating with the Statue of Liberty is a historical fiction novel that proves there are still lessons to be learned from history.
Content Analysis:
Profanity/Language: 3 religious exclamations.
Violence/Gore: Character dreams of soldiers roughly dragging his friend away; man is handcuffed and pushed down the aisle of the train; mention that anyone caught singing the French National anthem would be shot by Nazi soldiers; character has rocks thrown at him; news reel shown before a movie that depicts the tragedies of WWII including rumors of death camps in Germany; character describes how he saw someone beat to death by Nazi soldiers; character tells how he got a black eye because kids beat him up; character has something thrown at him hitting him in the leg causing him to fall; 4 page account of protesters having rocks thrown at them, fights breaking out and police rough handling some of the protesters resulting in several injuries.
Sex/Nudity: Mention of how boy and girl like to hold hands and walk with arms around each other; boys and girls hold hands while roller skating.
Mature Subject Matter:
Racism, prejudice, war, segregation, bullying.
Alcohol / Drug Use:
None
Reviewed By Sally