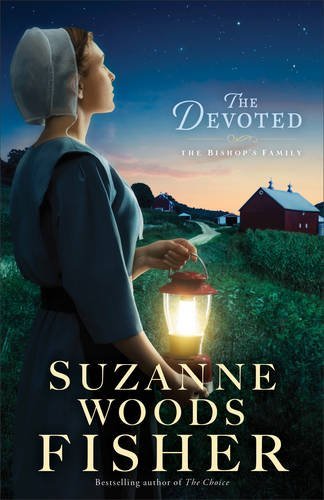 Publisher's Note:
Fan Favorite Suzanne Woods Fisher Offers Readers Tender Romance, Humor, and Plenty of Surprises

Bright, curious, and restless, Ruthie Stoltzfus loves her family but is stuck in a sea of indecision about her future: Should she stay Amish? Or should she leave? She's done all she can to prepare to go--passed the GED, saved her money--but she can't quite set her journey into motion.

Patrick Kelly is a young man on a journey of his own. He's come to Stoney Ridge to convert to the Amish and has given himself thirty days to learn the language, drive a buggy, and adapt to "everything Plain." Time, to Patrick, is of the essence. Every moment is to be cherished, especially the hours he spends with Ruthie, his Penn Dutch tutor.

Ruthie's next-door neighbor and cunning ex-boyfriend, Luke Schrock, is drawn to trouble like a moth to a flame. Rebellious, headstrong, defiant, Luke will do anything to win Ruthie back--anything--and Patrick Kelly is getting in his way.

Bestselling author Suzanne Woods Fisher invites readers back to Stoney Ridge for a story of dreams deferred and hopes fulfilled--complete with Fisher's signature twists that never fail to leave readers delighted.
This book was sent to Compass Book Ratings for review by Revell
The Devoted
by Suzanne Woods Fisher
Overall Review:
The Devoted is the third book in The Bishop's Family Series. This series by Suzanne Woods Fisher is a sequel series to The Inn at Eagle Hill Series. It is not necessary to read the previous series to enjoy the book, but reading the first two books of The Bishop's Family Series is advised. The books skip several years in between the installments.
The writing style of this series really seems to follow the slow and easy pace one would expect from an Amish-themed novel. There are many characters and relationships that can get a little confusing, if the book is not read fairly quickly. Fisher chooses to not inundate her stories with a lot of Amish facts which are rehashed over and over. That is a very good choice. Fisher treats the Amish lifestyle as normal for her characters and tries to write as though things are seen from the eyes of people familiar with Amish culture.
Characters in this story face a wide variety of challenges which keep things interesting. Some are struggling with religious questions, some with health challenges, others experience heartache and still others are trying to determine that best paths for their futures. The ending of this book ties up all of the immediate questions readers might have about the main characters, but leaves plenty of room for interpretation.
Content Analysis:
Profanity/Language: None
Violence/Gore: A man is bleeding from a cut; characters speculate that a man was murdered; a character is run over by a vehicle; explosives destroy various objects, including mailboxes; character grabs another violently resulting in bruises.
Sex/Nudity: Married characters embrace and kiss; non-married characters embrace and hold hands; reference is made to a baby born out of wedlock.
Mature Subject Matter:
Death of spouse and parent, addiction, life-threatening illness.
Alcohol / Drug Use:
Underage character drunk on many occasions; teens smoke marijuana.
Reviewed By Susan