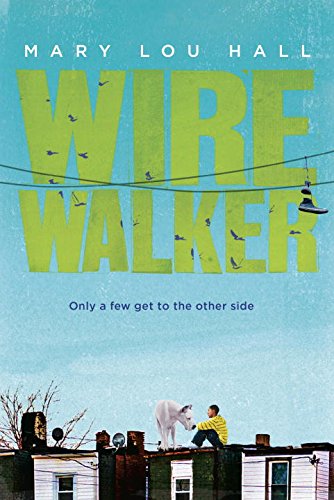 Publisher's Note:
Sometimes heroes can be found in the most unlikely places.

Fourteen-year-old Clarence Feather knows no world beyond desolate Mayfair Heights. Three years ago, his mother was killed before his eyes by a stray bullet. When his father becomes unable to keep the family afloat, Clarence is manipulated into running drugs. But he longs to be a good person, in spite of the seemingly impossible odds.

Wandering through his neighborhood, Clarence meets Mona, a huge albino Great Dane. The two develop a deep bond. When he is forced to attend a dog fight as a rite of passage, Clarence realizes that Mona isn't safe, and neither is he. Can he find a way to protect Mona? Can he survive life in Mayfair Heights and still become the person his mother wanted him to be?

A novel about self-reliance, difficult choices, and imagination in the face of danger and isolation,Wirewalker is a masterfully written debut that blends gritty realism with moments of fantastical escape.
This book was sent to Compass Book Ratings for review by Viking Books for Young Readers
Wirewalker
by Mary Lou Hall
Overall Review:
Teenage Clarence Feather is walking the line, a fine line that leaves him teetering, Mary Lou Hall's debut YA novel Wirewalker.
In Clarence's neighborhood surviving is hard, but Clarence wants to do more than just survive, he wants to be a good person. But, after witnessing the murder of his mother, he is finding it more complicated than ever.
Third person narrative reveals a complex, judicious protagonist in Clarence Feather--a sweet and tender boy who is living amongst the vilest of components, some of which include gangs, drugs, and abuse. All of these things snarl and fight to take hold of Clarence, to harden him, to distort what it means to be manly and successful.
Clarence's relationship with the people around him display the age-old issue of good versus evil, and makes Clarence begin to question himself. Can you still be considered a good person even if you have to do bad things in order to survive?
Paced somewhat on the slow side, it has a soulful prose with passionate tones, that expose how aggressively hard issues can be written with delicacy while still being honest about adversity.
And what can pull at heart strings more than a book about a boy and a dog? Though contemporary, this book is the emotional equivalent of classics such as Where the Red Fern Grows by Wilson Rawls, or Shiloh by Phyllis Reynolds Naylor. But, because of intense language (see content review below), it may not be as compatible for a younger audience as are the afore mentioned books.
Review of an Advance Reader's Copy
Content Analysis:
Profanity/Language: 10 religious exclamations; 22 mild obscenities; 6 religious profanities; 7 derogatory names; 37 scatological words; 33 anatomical terms; 15 F-word derivatives.
Violence/Gore: Report of animals being violent with one another; few mention of parent's murder; extended scene (about 1 page) parent brings child to animal fight, animals attack one another, minor description of blood and gore; implication of animals violent death; implication of child abuse; brief memory of parent's murder; few mentions of memory of animal fight; brief news report of animal fighting activity; character has a violent thought; threat of child being hurt by parent; character is hurt as a gang initiation process, injury mentioned; extended scene (about ¼ page) memory of violence; threat with gun; marks on child imply child abuse (about 2x), injuries mentioned; revelation that parent is abusing their child; child thinks about shooting an adult, takes parent's gun; disturbing extended scene (about 2 pages) abuse against animals to train them to attack one another; brief mention of character's family being killed.
Sex/Nudity: Adults kiss; brief mention of illegitimate child; mention of girls and women dressing provocatively; a few slang words used to describe a sexually active woman; woman said to be in tight revealing clothing; few slang words used to describe a man who operates a prostitution ring.
Mature Subject Matter:
Illegal drug activity, gang activity, drug abuse/alcoholism/addiction, child abuse/neglectful parenting, animal abuse/dog-fighting, impoverished neighborhood/poverty, race/discrimination issues (biracial), death (violent) of a parent.
Alcohol / Drug Use:
Child(ren) and adults involved in drug activity throughout novel; one brief scene parent allows child to drink; adults consume drugs, alcohol, and tobacco products throughout novel.
Reviewed By MaryLou