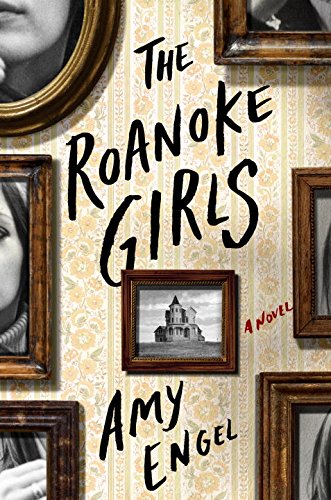 Publisher's Note:
"Roanoke girls never last long around here. In the end, we either run or we die."

After her mother's suicide, fifteen year-old Lane Roanoke came to live with her grandparents and fireball cousin, Allegra, on their vast estate in rural Kansas. Lane knew little of her mother's mysterious family, but she quickly embraced life as one of the rich and beautiful Roanoke girls. But when she discovered the dark truth at the heart of the family, she ran…fast and far away.

Eleven years later, Lane is adrift in Los Angeles when her grandfather calls to tell her Allegra has gone missing. Did she run too? Or something worse? Unable to resist his pleas, Lane returns to help search, and to ease her guilt at having left Allegra behind. Her homecoming may mean a second chance with the boyfriend whose heart she broke that long ago summer. But it also means facing the devastating secret that made her flee, one she may not be strong enough to run from again.

As it weaves between Lane's first Roanoke summer and her return, The Roanoke Girls shocks and tantalizes, twisting its way through revelation after mesmerizing revelation, exploring the secrets families keep and the fierce and terrible love that both binds them together and rips them apart.
This book was sent to Compass Book Ratings for review by Random House
The Roanoke Girls: A Novel
by Amy Engel
Overall Review:
The thing that drew me to this book initially was the cover, which I know I'm not supposed to base my opinions or choices off of, but I do often anyway. Doing a little bit of research on this book revealed that it has a good amount of creepiness to it; one example being that it is about a family that is notorious for its beautiful women--who usually don't make it far into adulthood.
I began reading this book and immediately fell in love with the plot, characters, and storyline. Weird house that has odd nooks and crannies? Check. Women who go missing and are usually found dead of their own hand? Check. Creepy grandparents with odd pasts? Check. This book seemed to have everything to make it exciting and intriguing. Every character that was introduced had a past history that wove into the story and the lives of the main characters: cousins Allegra and Lane. Although I could often feel that Lane wanted to run from her past, she stays on the path of curiosity that she has taken and sees it through--impressive for a girl with her family history.
I really liked how author Amy Engel doled out bits of history and mystery as the book progressed, so as to make me suspicious of the outcomes of the characters, and yet still uncertain. I know I would have loved this book as a teen, but parents, you may want to have your kids wait a little bit longer until they are mature enough to handle some of the events that occur in this book. It might even be a good book to read together, so some of the things that take place can be discussed.
Review of an Advance Reader's Copy
Content Analysis:
Profanity/Language: 7 religious exclamations; 14 mild obscenities; 4 derogatory names; 7 scatological words; 7 anatomical terms; 21 f-word derivatives.
Violence/Gore: A girl's mother is reported to have died by suicide, a brief mention of the method used is given; a report of an infant dying is briefly given, with no detail; a minor is mentioned to have had a suspected miscarriage, some blood mentioned; a man is reported to beat his wife and kids regularly; a brief scene is described where a woman intentionally drowns herself; a woman is reported to be known for illegally performing abortions; a woman goes missing and she is suspected to have run away or killed herself; a mention of a relative drowning; a minor is reported to have died from falling down a set of stairs and breaking her neck; an elderly woman attacks her granddaughter and a brief fight ensues.
Sex/Nudity: An affair is mentioned; a minor girl is described as having revealing clothes on, and her breasts are showing a bit too much; having sex is referred to in a vulgar way; a brief mention is made of the observation that a minor couple is sexually active; minors kiss in one brief scene; a minor casually mentions someone "getting knocked up"; adults are implied to be having sex in one brief scene, no description is given; a man is implied to be engaging in multiple affairs; an unmarried couple is depicted having sex nude in one brief scene with little detail (detail included is removing clothes, and their brief conversation); minors are reported to have had sex in a public park; a man is accused of touching minors inappropriately.
Mature Subject Matter:
Incest, abortion, personal crises, suicide, murder, missing persons.
Alcohol / Drug Use:
Adults drink wine; whiskey and beer are served multiple times throughout the book to adults; a minor smokes in one scene; meth use is mentioned; minors are described to be drinking vodka; adults smoke, cigarette smoke is mentioned to be smelled in the air several times; pills and "snorting" drugs mentioned briefly.
Reviewed By Lydia