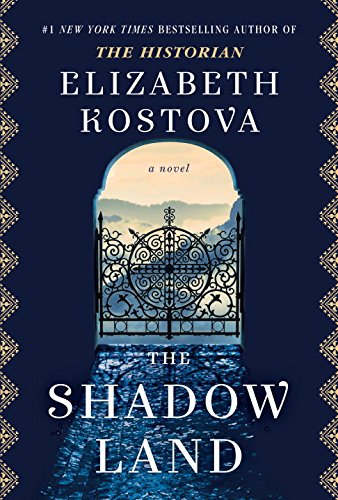 Publisher's Note:
From the #1 bestselling author of The Historian comes an engrossing novel that spans the past and the present—and unearths the dark secrets of Bulgaria, a beautiful and haunted country.

A young American woman, Alexandra Boyd, has traveled to Sofia, Bulgaria, hoping that life abroad will salve the wounds left by the loss of her beloved brother. Soon after arriving in this elegant East European city, however, she helps an elderly couple into a taxi—and realizes too late that she has accidentally kept one of their bags. Inside she finds an ornately carved wooden box engraved with a name: Stoyan Lazarov. Raising the hinged lid, she discovers that she is holding an urn filled with human ashes.

As Alexandra sets out to locate the family and return this precious item, she will first have to uncover the secrets of a talented musician who was shattered by oppression—and she will find out all too quickly that this knowledge is fraught with its own danger.

Kostova's new novel is a tale of immense scope that delves into the horrors of a century and traverses the culture and landscape of this mysterious country. Suspenseful and beautifully written, it explores the power of stories, the pull of the past, and the hope and meaning that can sometimes be found in the aftermath of loss.
This book was sent to Compass Book Ratings for review by Random House
The Shadow Land: A Novel
by Elizabeth Kostova
Overall Review:
Just glancing at the cover of this book had me dreading it. The picture on the cover shouted "BORING!" to me. But once I opened the covers of this book, I was hooked. With a little bit of mystery, a love interest, and a bunch of history (not the boring kind!) The Shadowland had me reading constantly, trying to get to the next thrilling turn of events.
You might think this book would center around the main character, Alexandra Boyd, finding new daily habits and activities in Bulgaria, a country she's just traveled to. Nope. Instead, readers are immediately pulled into a fascinating story about a woman who accidentally comes into the possession of something that she knows she must return at any cost. Alexandra and her taxi driver travel a lot through Bulgaria, so there is a bit of geography and history involved right from the beginning, which helps the reader understand events that take place throughout the book more concisely.
There was something about Alexandra that made me interested in her story--perhaps the guilt she feels over things she can't control (which I can relate to), or maybe it was simply that she seemed to be in mourning, so I felt the need to pity her. Either way, Elizabeth Kostova did a wonderful job knitting the stories in this book together, and I look forward to reading more of her work!
Review of an Advance Reader's Copy
Content Analysis:
Profanity/Language: 1 religious exclamation: 5 mild obscenities; 2 anatomical terms; 5 F-word derivatives.
Violence/Gore: Ashes of a dead man are found in a bag; a teen goes missing while on a hike and is never found, suicide or an accident are suspected; a woman remembers self-harming and some of the pain she went through; damage to a building and some graffiti is mentioned to be done to a car and a house; a man is reported to have died in a cellar that caved in: a man is interrogated by police and physically harmed (manhandling, whipping feet); a report of a family found dead by a character is briefly given, some blood is mentioned and weapons used: description of life in a prison camp is given, one character spends a long period of time there and some graphic imagery occurs in multiple scenes; starvation, death, and infection are described briefly in several different scenes in a prison camp; a group attacks travelers and threatens them with guns and some shooting; a character is killed, suicide is mentioned to be suspected.
Sex/Nudity: A woman is concerned about traveling with a man and maybe being required to sleep in the same bed as him out of necessity; a male's privates are mentioned in a non-sexual, factual way; characters kiss each other in greeting; a woman has a vivid dream of being kissed.
Mature Subject Matter:
Suicide, loss of a loved one, personal crises, historical tragedies.
Alcohol / Drug Use:
A minor smokes; adults drink alcoholic beverages.
Reviewed By Lydia