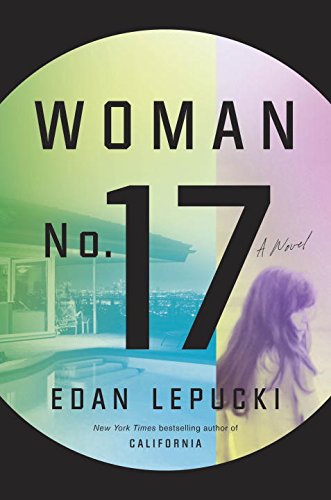 Publisher's Note:
A sinister, sexy noir about art, motherhood, and the intensity of female friendships, set in the posh hills above Los Angeles, from the New York Times bestselling author of California

High in the Hollywood Hills, writer Lady Daniels has decided to take a break from her husband. She's going to need a hand with her young son if she's ever going to finish her memoir. In comes S., a magnetic young artist, who will live in the secluded guest house out back, care for Lady's young toddler son, and keep a watchful eye on her older, teenage, one. S. performs her day job beautifully, quickly drawing the entire family into her orbit, and becoming a confidante for Lady. But as the summer wears on, S.'s connection to Lady's older son takes a disturbing, and possibly destructive, turn. Lady and S. will move closer to one another as they both threaten to harm the things they hold most dear. Darkly comic, twisty and tense, this mesmerizing new novel defies expectation and proves Edan Lepucki to be one of the most talented and exciting voices of her generation.
This book was sent to Compass Book Ratings for review by Random House
Woman No. 17: A Novel
by Edan Lepucki
Overall Review:
Having read California a few years ago, I basically knew nothing of Edan Lepucki's writing style. I read more books than my brain can handle sometimes, and this results in me losing important details of the stories I ingest. Maybe it's a good thing though, because I am often pleasantly surprised when I have no idea what book I am getting into.
In the case of this book, I can only say that I'm pretty sure it is nothing like Lepucki's previous novel. Woman No. 17 is one that I can see getting a lot of praise and hype, simply because it is exactly what many readers are looking for these days. In this book, a swanky young lady with two kids is looking for someone to take care of her younger child while she is doing some intense writing work. Sounds kind of boring, right? Well, yes...until you add in that said woman is one of the very interesting narrators of this book, along with the young woman she hires as a nanny. And that both of these women have pasts that still haunt them.
Basically, I see this book as the kind of story to read when you lead what you personally consider a mundane life. This book adds intrigue to what could be everyday life, and it has boatloads of drama to help keep things moving along quickly. There are lots of complex relationships, a fun little scene where two women get drunk and then realize what a mistake it was, and lots of juicy gossip about fictional characters. What's not to love? Woman No. 17 is the kind of book I adore and want more of.
Review of an Advance Reader's Copy
Content Analysis:
Profanity/Language: 5 religious exclamations; 1 mild obscenity; 4 derogatory names; 4 scatological words; 6 anatomical terms; 13 f-word derivatives.
Violence/Gore: A woman imagines injuring another woman who is visiting her; a pan overheats on the stove and a lot of smoke results, causing some brief panic about the safety of the house and the people within; a pet is found accidentally drowned in a pool, a brief description is given of a woman removing it from the pool; a report is given to a woman that her mother has passed away recently.
Sex/Nudity: A brief sexual scene occurs with no detail; a woman is depicted breastfeeding; a woman recalls some sexual encounters with older men, a brief description is given of "roaming hands"; a man and woman are mentioned to undress and have sex in one brief scene, some description of kissing and physical parts of their bodies is mentioned; a woman is pictured partially nude in art, this piece of art is mentioned several times throughout the book; a young adult woman kisses a boy who is much younger than her; a child is depicted nude in a few scenes; an inappropriate relationship is questioned by adults; an adult couple is described to meet up and have sex, some brief description of nude bodies and sexual advances is given, with no explicit detail.
Mature Subject Matter:
Divorce, separation, death of a loved one, cancer.
Alcohol / Drug Use:
An adult woman is often depicted drunk; a minor smokes; an adult mentions that a bong was found in a minor's room; pot is mentioned; adults drink beer and vodka on several occasions; doing hard drugs is alluded to; an adult who is supposed to be in charge of a young child is described to be drunk on the job.
Reviewed By Lydia