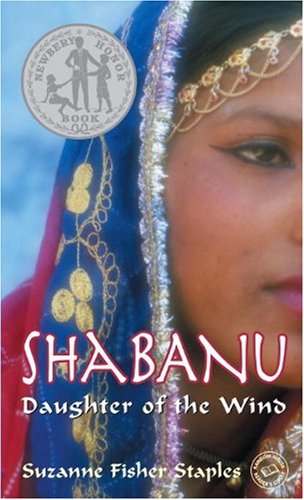 Publisher's Note:
Life is both sweet and cruel to strong-willed young Shabanu, whose home is the windswept Cholistan Desert of Pakistan. The second daughter in a family with no sons, she's been allowed freedoms forbidden to most Muslim girls. But when a tragic encounter with a wealthy and powerful landowner ruins the marriage plans of her older sister, Shabanu is called upon to sacrifice everything she's dreamed of. Should she do what is necessary to uphold her family's honor—or listen to the stirrings of her own heart?
This book was sent to Compass Book Ratings for review by Random House
Shabanu: Daughter of the Winds
by Suzanne Fisher Staples
Overall Review:
Shabanu: Daughter of the Winds is the coming-of-age tale of a young Muslim girl who lives in the Cholistan desert in Pakistan. Suzanne Fisher Staples tells a poignant story portraying the life and culture of these desert families and the role of women in them. The language is stark and vivid, much like the lives and landscape of the desert people Staples is writing about. The story is a little slow to get going and continues somewhat unremarkably for a while, giving a detailed picture of how life is for a young Pakistani desert girl whose family raises camels. One keeps wondering again and again when the climax will come, then suddenly it's there like a hammer strike and the story explodes! In the conversation with the author in the back of the book, Staples says that Shabanu is an exploration of the "universality of human experience" and the similarities of women across many cultures; however, I found it very difficult to overcome the drastic and sometimes shocking differences between Shabanu's culture and my own. In the end, though, I found myself in tears over the spirit of a young girl struggling against the strictures of her society and how she reconciled herself to them and became a woman. An eye-opening and thought-provoking read.
Content Analysis:
There are several instances of death in this book, both by natural causes (they do live in a harsh desert climate) and by less natural. Two main characters' lives and virginity are threatened, and there is at least one instance of a harsh beating.

There is no profanity to speak of.

The family lives in the desert in small huts and raises camels; issues of both animal and human sexuality are referred to several times, though never detailed or in a base manner. Again, the virginity of characters is threatened.
Mature Subject Matter:
Mature themes are based mostly in the fact that girls are married off at age thirteen to one of their parents' choosing and all the ramifications therein, and the potential rape of a young girl. Sexual themes in raising animals, close desert life, and girls thinking of their own futures—while never explicit in any way—would also lend the book toward a more mature audience.
Alcohol / Drug Use:
***
Reviewed By Kristen