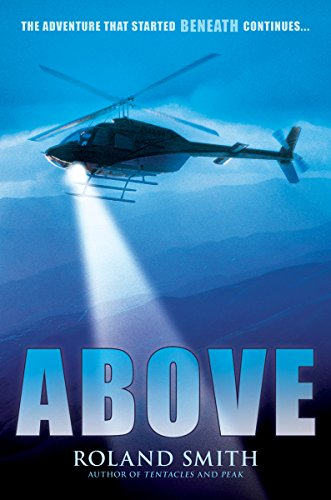 Publisher's Note:
Pat O'Toole and his brother, Coop, are on the run from an enemy that specializes in hiding in plain sight. Along with their new companion, Kate, they've narrowly escaped a cultlike community situated beneath the streets of New York City. Kate has lived underground since birth, and the world above thrills her, but it's treacherous as well. With the cult's leader -- Kate's grandfather -- hatching a new scheme of global consequence, the three runaways may be the only ones who can stop him. Will they face him head-on, or will they spend the rest of their lives as fugitives?

The adventure that started Beneath concludes Above in this action-packed middle-grade thriller by Roland Smith.
This book was sent to Compass Book Ratings for review by Scholastic Press (A Scholastic Imprint)
Above
by Roland Smith
Overall Review:
Above by Roland Smith is an exciting conclusion to what happened in Beneath. If you have not read Beneath, do not continue because there may be spoilers and to really understand what is going on in Above one really should read Beneath first.
What started in an underground bunker underneath New York City draws to a close on the opposite side of the country amongst the towering redwoods. Pat, Coop and Kate are still all working together to bring down the cult-like, dystopian society run by Kate's grandfather, Lod, who wants to end the world as they know it. They have to do this while running from the exact same people--because those people want to make them pay for messing up their plans. The problem is, the friends don't always know who is working for Lod and in whom they can place their trust. This has them thinking on their feet and improvising as they go along, making it exciting to see what they come up with next.
While some of the plot of Above seemed predictable, it is a refreshing take on the whole dystopian genre. The story line moves at a quick pace, making this novel a page-turner. The ingenuity in creating a world hidden below makes this an interesting read. The brotherly relationship between Coop and Pat is heart-warming, as is the budding romance with Kate. With this novel taking place in a matter of days, there isn't as much character growth as seen in the first novel, but they do stay true to the characters they developed into at the end of the first novel and continue to use their skills to accomplish the desired outcome.
So if you are looking for an exciting dystopian-like story that takes you not only from coast to coast, but both above and below, check out Roland Smith's Beneath and Above.
Review of an Advance Reading Copy
Content Analysis:
Profanity/Language: 1 religious exclamation.
Violence/Gore: Character remembers being handcuffed to a bed; secondhand account of the murder of 2 people (2 times); character described as being willing to do anything, including murder, to bring about their cause (3 times); character remembers tasing a man and shooting a dog; account of a character being hit by a car while biking; character bound and gagged; character told she is lucky that she hasn't been killed; secondhand account of someone being shot; character told they will be killed if they step out of line; character speculates that others will be killed if caught; character admits to having killed people in the past; character remembers the time he was shot at and injured; character mentions how dissenters were killed and dumped into the sea; characters find a dead body; character taped up with duct tape; characters have gun pointed at them and told to do what they are told; character threatened by someone with a knife; character murders someone just to get them out of the way; secondhand account of someone having been bitten by a dog; characters plot how to get away and how that includes having to kill someone; characters have gun pointed at them and are told they are about to be killed; character kicks out the legs of another and breaks one of them.
Sex/Nudity: Boy and girl hold hands (2 times); boy and girl kiss; boy and girl hug.
Mature Subject Matter:
Murder, dystopian or cult-like society/mentality.
Alcohol / Drug Use:
"Get me a beer" is used as a code for the character to get something but no actual alcohol is given.
Reviewed By Sally