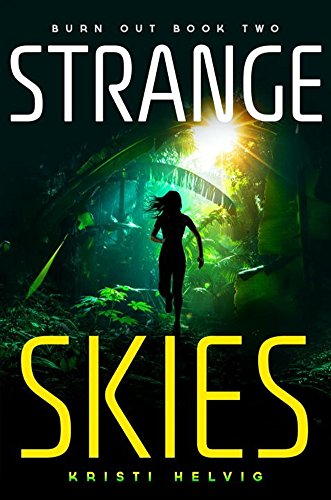 Publisher's Note:
Action, adventure, and romance are heating up in this sequel to the futuristic science fiction thriller Burn Out. Perfect for fans of Across the Universe and The Memory of After.

Caelia is the new Earth. That's what the Consulate told everyone and, against all odds, Tora finally has made it there. She can't see the ocean from her cell in the Consulate's containment center, and she doesn't know what happened to the weapons her father died for and she's risked her life to save.

But as she plans her escape, she runs into the last person she ever expected to see--her dad. The Consulate has held him prisoner in a complicated plot designed to lure Tora out of hiding. Now Tora has a new purpose: break free, get the guns, and save her father.

But first she'll have to navigate a strange new planet, track down James (whose loyalties still remain questionable), and find Kale . . . before he finds her first.
This book was sent to Compass Book Ratings for review by Lerner Publishing Group
Strange Skies (Burn Out Book Two)
by Kristi Helvig
Overall Review:
Initially Strange Skies appears to be an impossible war story that could only be won by evil. Fortunately, when we meet the fierce members of the Resistance, hope is found. That's not to say that there isn't much adversity and danger along the way. While the main theme of the story is about a war, the story is peppered with a little romance to add a softer side, which will make it appealing to both male and female audiences. Tora Reynolds is a great protagonist: brave and determined. We are also favored with additional great characters including a loyalist, a constant flirt, a corrupt antagonist and many other interesting supporting characters. Kristi Helvig's take on the varied landscapes on the different planets as well as the destruction of Earth were interesting to imagine.
Strange Skies is the second book of the Burn Out series which I didn't remember until after reading it. Luckily, you won't feel confused having not read the first one prior to this but if you enjoy it as I did, you'll want to read it anyway so I recommend starting from the beginning. Kristi Helvig is a great author so you have two books to look forward to with another in the series on the way. The plot reminded me a bit of Ava Jae's Beyond the Red so if you enjoyed that book, you might give Strange Skies a try.
Content Analysis:
Profanity/Language: 35 mild obscenities; 2 derogatory names; 6 scatalogical words; 3 anatomical terms; 3 f-word derivatives.
Violence/Gore: Many (36) brief incidents including characters joking about wanting to hurt someone; reference the possibility of something killing a person; suicide mentioned; verbal threats; characters thought a character died; character wanting to kill another; secondhand reports of death and murder in various ways; reference to someone getting tortured; war discussion; characters receive non-life-threatening wounds; character pretends to have killed another; hunting incidents; character cuts hand; character attacked by animal; characters killed.
Extended incident of war violence resulting in deaths.
Sex/Nudity: Many (42) brief incidents including kissing; holding hands; touching arm, neck and face; hugging; flirting; male and female characters sleeping beside each other; cuddling; female character sitting on male character's lap; head on shoulder; arms around; male character exercising with shirt off; female character changes clothes in front of male character; several incidents of innuendo; references to having sex; implied sex.
Mature Subject Matter:
Death, war, murder, drug addiction, implied sex.
Alcohol / Drug Use:
Characters given pain medication, sedatives and medication to cause memory loss; reference to character being drug addict; reference to alcohol being made; character drunk frequently; a few incidents of characters drinking at a bar.
Reviewed By Jenny