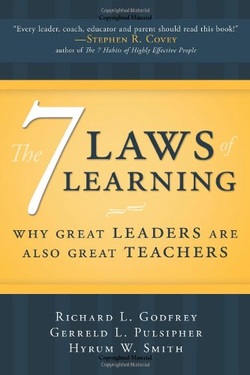 Publisher's Note:
Become a great leader like Christ, Confucius, Winston Churchill, and other extraordinary leaders. Teach new ideas in ways that both engage people and persuade them to use their agency to bring about personal and global change. By using storytelling, metaphor, and other teaching styles that motivate and inspire, you'll soon be effectively communicating and leading in every situation.
This book was sent to Compass Book Ratings for review by Cedar Fort
The Seven Laws of Learning
by Richard Godfrey
Overall Review:
In The Seven Laws of Learning, we take a journey through history in order to learn how to be a better leader and teacher. I really enjoyed all the stories—which I think was part of the point of the whole book: We learn best through stories! I loved learning more about the experiences of great world leaders and how their methods can be used in our everyday lives. People such as Eva (Evita) Peron, who gave life to Argentina; William Wilberforce, who was one of the main forces behind the abolition of slaves in England; Mohandas Ghandi and his peaceable revolt against the English in India; Nelson Mandela and his 20+ years in prison and subsequent presidency in South Africa; even Bill Cosby and his easy banter with children and uproariously hilarious takes on life! I also found the stories of the Hopi people of southern Utah/Arizona area to be very fascinating—starting off with their story, then continuing it at the end was a stroke of genius. It tied everything all together and made a lovely point.

The seven laws were all different, and yet they were very interconnected. You couldn't have one without the others. Each law was introduced with an example of a person from history who utilized that specific law in one way or another, which I found fascinating. It was wonderful to learn about so many great people! My favorite section was Law #4, which talked about the 4 learning styles: Visual, Auditory, Reading Based, and Kinesthetic. Specific examples were given on how to tell which type of learner you and those around you are. It was very simple and very eye opening as I used those examples to discover the learning styles of myself and my family!

On the whole, The Seven Laws of Learning is a very helpful and engaging book. There were, of course, moments that dragged, but that's what inevitably happens when you're repeating information or ideas. Upon finishing the book, I felt a great satisfaction, and I'm ready to put some of the ideas to the test on my own family!
Content Analysis:
There was only one word that could be construed as profanity—a word used to describe a very boring meeting.
The violence is mild and is mostly merely mentioned in storytelling form. There are stories of wars, death, severe situations, imprisonment, slavery, etc. All of the instances are from the life stories of well-known figures in history, and they are not told for shock value, but are used to prove a point and create positive emotion. There is also an example in the author's life when he cuts his leg and has to have stitches.
Mature Subject Matter:
The mature themes revolve around the stories of the historical figures' hard life situations. There is also the theme of the whole book: improving our lives and our teaching/leading ability.
Alcohol / Drug Use:
***
Reviewed By Emily