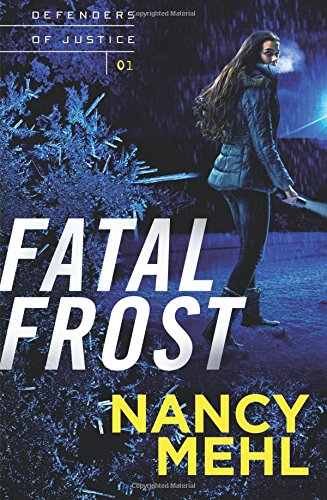 Publisher's Note:
Mehl Ramps Up the Suspense in This Brand-New U.S. Marshals Series

Mercy Brennan followed in her father's footsteps in a law enforcement career, but she has no interest in any other connection to him. A U.S. Marshal in St. Louis, Missouri, she's assigned to a joint task force with the St. Louis PD that puts her back into contact with her father and in the sights of St. Louis's most powerful gang.

When the gang has reason to believe Mercy has possession of some highly sensitive and incriminating information, her boss assigns Mark St. Laurent--a Deputy U.S. Marshal and Mercy's ex-boyfriend--to get her out of town until they can guarantee her safety.

Initially unaware of the danger she's in and uncomfortable working with Mark, Mercy's frustration escalates when she discovers the extent her boss and Mark have been keeping her in the dark. It isn't until a freak ice storm hits, stranding them at a remote location and out of contact with the district office, that the full severity of their situation becomes clear. As the storm worsens, the forces of nature combine with a deadly enemy closing in to put their lives at imminent risk. Can they survive long enough for help to arrive--if help is even coming at all?
This book was sent to Compass Book Ratings for review by Bethany House Publishers
Fatal Frost
by Nancy Mehl
Overall Review:
Fatal Frost by Nancy Mehl is the first of the Defenders of Justice series. If you enjoy reading books about law enforcement and their fight against evil, this is a decent read. Be warned though that it is not a soft and easy read. There are many discussions of the harsh realities of gangs and their ruthless behaviors.
The main character, Mercy Brennan, feels flat and unengaging; however, some of her friends are more intriguing. As the story progresses Mercy does become a bit more interesting, but it just doesn't inspire a deep connection to her. One good thing about Mercy is that she does not give up even when things are hard.
The story itself has an okay plot that gives readers plenty of opportunities to guess what might be coming, but at the same time, it is fairly predictable. There are a lot of instances of jumping around to multiple people's perspectives and it felt disjointed. Part of that can be attributed to the Advanced Reader Copy as it had no transitional markings.
Review of a Digital Advance Reader Copy
Content Analysis:
Profanity/Language: None
Violence/Gore: Many reports of people being shot, some fatal, some not, some give details and others are merely mentions; a multiple chapter instance of characters shooting one another and trying to capture one another - in this several are wounded and there is blood oozing from wounds and on people's clothing, hands, etc. some of the gunshots are fatal, other scenes involve people being handcuffed or bound and people striking others with objects; several instances in which a person is threatened with a gun; characters speculate about whether or not there will be a blood bath; several instances in which a character expresses intent to kill someone; report of a person being shot and killed in front of a child.
Sex/Nudity: Non-married characters kiss and embrace; a male character is required to remove all but his underwear, not sexual; a man removes his shirt to dress a wound; character says a past relationship wasn't chaste; character recalls a mom entertaining men, but the specifics of the entertainment are not given.
Mature Subject Matter:
Child abuse, addictions, gang activity, death of family members, deception.
Alcohol / Drug Use:
Subject of book is drug cartels and gangs; report that a person was an alcoholic; report that a character was a drug addict and had needle marks.
Reviewed By Susan