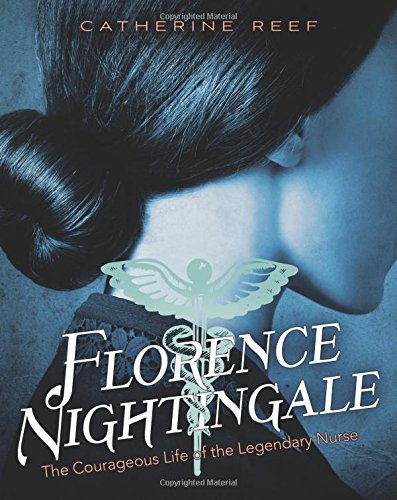 Publisher's Note:
Most people know Florence Nightingale was a compassionate and legendary nurse, but they don't know her full story. This riveting biography explores the exceptional life of a woman who defied the stifling conventions of Victorian society to pursue what was considered an undesirable vocation. She is best known for her work during the Crimean War, when she vastly improved gruesome and deadly conditions and made nightly rounds to visit patients, becoming known around the world as the Lady with the Lamp. Her tireless and inspiring work continued after the war, and her modern methods in nursing became the defining standards still used today. Includes notes, bibliography, and index.
This book was sent to Compass Book Ratings for review by Clarion Books
Florence Nightingale: The Courageous Life of the Legendary Nurse
by Catherine Reef
Overall Review:
A brief search on Amazon will return a long list of books about Florence Nightingale--and by Florence Nightingale. Yes, as the mother of modern nursing as we know it, her writing is still in print. Florence Nightingale: The Courageous Life of the Legendary Nurse is a straight-up, linear biography for middle and high school students. It is quite thorough, covering Florence's private and public life from birth until her death at 90. Not narrative non-fiction, this book is primarily a reference type book, which would be perfect for school research papers. The prose is complimented by illustrations, direct quotes, and photographs. The author's treatment of the complete story of Florence Nightingale gives context to her place in history and her private life.
Content Analysis:
Profanity/Language: None
Violence/Gore: The book covers 90 years so there are many references/reports throughout to people dying from illness, age, etc.; mention of use of leeches; boys throw rocks at animal and severely injure; report of death in shipwreck; report of death in desert; fall, head is hit; suicidal feelings; report of death in carriage accident; report of amputation and death; description of the effects of cholera; report of death of pet; brief descriptions of casualties from/in battle; report someone killed a rat with broom handle; several chapters on the war with brief descriptions of the wounded.
Sex/Nudity: Passing reference to sex workers; reference to a mistress living with a man; reference to prostitutes.
Mature Subject Matter:
Death of friends and family, women's rights, inequality - women, war, horrendous health conditions, depression.
Alcohol / Drug Use:
Mention that someone was dependent on alcohol; reference to drinking; reference to whiskey distillery.
Reviewed By Cindy