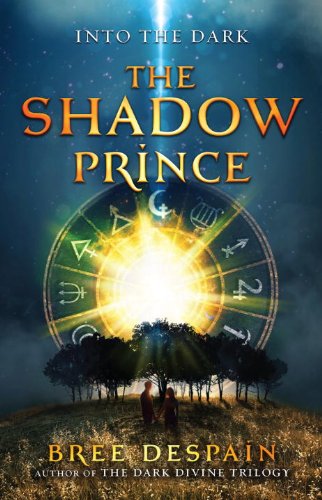 Publisher's Note:
Haden Lord, the disgraced prince of the Underrealm, has been sent to the mortal world to entice a girl into returning with him to the land of the dead. Posing as a student at Olympus Hills High—a haven for children of the rich and famous—Haden must single out the one girl rumored to be able to restore immortality to his race.

Daphne Raines has dreams much bigger than her tiny southern Utah town, so when her rock star dad suddenly reappears, offering her full tuition to Olympus Hills High's prestigious music program, she sees an opportunity to catch the break she needs to make it as a singer. But upon moving into her estranged father's mansion in California, and attending her glamorous new school, Daphne soon realizes she isn't the only student in Olympus who doesn't quite belong.

Haden and Daphne—destined for each other—know nothing of the true stakes their fated courtship entails. As war between the gods brews, the teenagers' lives collide. But Daphne won't be wooed easily and when it seems their prophesied link could happen, Haden realizes something he never intended—he's fallen in love. Now to save themselves, Haden and Daphne must rewrite their destinies. But as their destinies change, so do the fates of both their worlds.

A pulsating romance of epic proportions, Bree Despain's The Shadow Prince will leave her fans breathless for the next book in the Into The Dark series.
This book was sent to Compass Book Ratings for review by Lerner Publishing Group
The Shadow Prince
by Bree Despain
Overall Review:
Two very different worlds collide as Haden from the Underworld meets Daphne from Middle-of-nowhere, Utah. With the chapters alternating between these two, we get to see each character's perspective, which adds to the depth and enjoyment of the story. Daphne is such a likeable character who is kind to everyone but is thrown into one crazy situation after another and you can't wait to see how she'll deal with each one. Haden starts out very self-absorbed but his transition throughout the story is interesting to see. It's also entertaining as Haden tries to adapt to a world that he knows little to nothing about and is so different from his norm. For example, you'll laugh at his reaction to seeing the sun for the first time and as he tries to decipher the meaning of idioms. Author Bree Despain provides the perfect amount of suspense, action and surprises. Those who enjoy Greek Mythology will love The Shadow Prince not only because it makes many references to several of the ancient myths you're familiar with, but also because there are many details in this modern story that have some relation to them as well, an Easter Egg here and there, if you will. Despain really left us hanging at the completion of this book. Fortunately, the two remaining books in the series are already published so you can look forward to even more of this great series!
Content Analysis:
Profanity/Language: 3 religious exclamations; 18 mild obscenities; 2 scatological words; 4 anatomical terms; 2 offensive hand gestures.
Violence/Gore: Many (48) brief incidents including character wanting another to die; character jokes about mafia killing people; reference to character dying soon; verbal threats; character has hand on another's throat; secondhand reports of death and murder; secondhand report of character having a broken arm and concussion; rape and kidnapping in a story; secondhand report of girl's heart getting ripped out; secondhand report of character attempting to hurt another; reference to war; secondhand report of character wishing for death; character kicked and head smashed on stone; character falls and cuts hand; character purposely makes another unconscious; character's arm intentionally cut; characters shocking each other with lightning; creatures clawing and gnawing at each other; creatures attacking humans with some getting killed; characters purposely dislocate another's arm and punch him; animal left to die; punching and fighting.
One extended incident of characters fighting with some deaths resulting.
Sex/Nudity: Several (19) brief incidents including holding hands; flirting; arm around; touching lips; kissing; hugging; male character sleeps with shirt off in same room as female characters; secondhand report of teen pregnancy; reference to child of concubine; joke about character being a eunuch; reference to character not having sex; innuendo; reference to STDs; reference to breeding; character handed a flier with pornography on it.
Mature Subject Matter:
Child abandoned by father, characters go missing, death, murder, war.
Alcohol / Drug Use:
Character's father is drinking or drunk regularly; underage drinking at a bar and a party; drinking at a casino.
Reviewed By Jenny