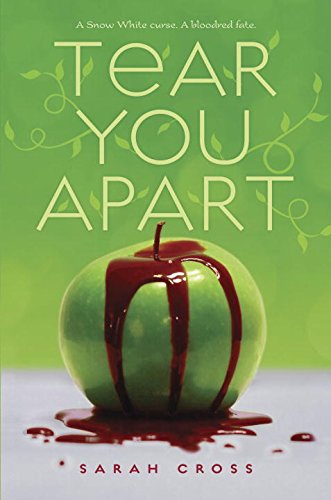 Publisher's Note:
If you want to live happily ever after, first you have to stay alive.

Viv knows there's no escaping her fairy-tale curse. One day her beautiful stepmother will feed her a poison apple or convince her on-again-off-again boyfriend, Henley, to hunt her down and cut out her heart before she breaks his. In the city of Beau Rivage, some princesses are destined to be prey.

But then Viv receives an invitation to the exclusive club where the Twelve Dancing Princesses twirl away their nights. There she meets Jasper, an underworld prince who seems to have everything--but what he really wants is her. He vows to save her from her dark fate if she'll join him and be his queen.

All Viv has to do is tear herself away from the huntsman boy who still holds her heart. Then she might live to see if happily ever after is a promise the prince can keep. But is life as an underworld queen worth sacrificing the true love that might kill her?
This book was sent to Compass Book Ratings for review by Lerner Publishing Group
Tear You Apart
by Sarah Cross
Overall Review:
Having read many fairytale retellings, it seemed unlikely that an author could come up with something unique (to me at least) but Sarah Cross did exactly that in Tear You Apart. The city in which the story takes place is essentially inhabited only by storybook characters. The idea of having several of the same Cinderellas, Red Riding Hoods and Huntsmen in the same city brings something new to the very familiar tales. It's really fun how these stories inevitably intertwine due to the characters all living near each other. Each time the story occurs it plays out a little differently. Occasionally it happens exactly as the original tale while other times it occurs in another way simply because of that particular character's personality of their unwillingness to accept their fate. The outcomes all seem inevitable but sometimes one little deviation is just enough to change the course completely. Those who love a fairytale with many twists need to check out Tear You Apart.
An engaging and fantastic new perspective on fairytale classics!
Content Analysis:
Profanity/Language: 17 religious exclamations; 15 mild obscenities; 8 derogatory names; 24 scatological words; 16 anatomical terms.
Violence/Gore: Many (56) brief incidents including character jokes about getting mauled by a bear; characters wear violent costumes; character threatens another with a sword; reference to a human sacrifice; character says another could hurt or kill them; threatened with a knife and slapped; character tries to get someone to kill another character; verbal threats; characters want another dead; violent painting; secondhand reports of death and murder of humans, animals and fantasy characters; reference to serial killer; secondhand report of deer getting hit by car; fighting on television; character wears a crown made of finger bones; reference to executioner; secondhand report of character getting beat; death and torture in stories; character smashes glass and cuts hand; character gets slapped; character shoved; scratches on arm; violent dream; character drugged; character passes out from clothing being too tight; human and animal characters poisoned; rope around a character's throat; character intentionally severely burned; character throws chair through window; character smashes up car; character breaks mirror; intentional car crash; decapitation; characters body torn apart.
Sex/Nudity: Many (105) brief incidents including cuddling; flirting; kissing; holding hands; dancing; characters sleeping beside each other; hugging; character carries another; touching back, arm, hair and face; male character removes shirt to show something on skin to female character; character is naked after magical dress disintegrates; character flashes another unintentionally; character's dress cut entirely down the center; references to breasts; character watches another change clothes; references to underwear; male character says he can get any girl to sleep with him; joking about a lap dance; character makes reference to needing to have sex; reference to virginity; character tries to have sex but is denied; reference to breast implants; reference to infidelity; character wears a "low-cut sexy" dress; character says boyfriend could cheat on her; several incidents of innuendo; reference to exhibitionist and streaking; character says another is probably pant-less; reference to orgy; character wears a see-through nighty; reference to a hooker; reference to necrophiliac; reference to having babies; reference to strip club; character "checks cleavage"; character makes reference to touching breasts; references to characters who frequently have sex; half-naked fairies; making out; reported sex; unmarried couple living together; character lies on top of another while their clothes are off.
Mature Subject Matter:
Reference to shoplifting, mental illness, reference to someone starving, death, murder, many sexual references.
Alcohol / Drug Use:
Drinking with dinner; many incidents of drinking at parties (including underage); smoking; character drugged; reference to Xanax.
Reviewed By Jenny