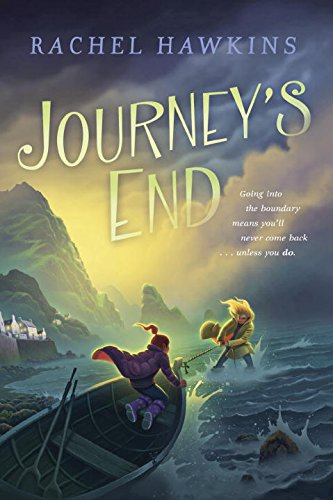 Publisher's Note:
New York Times bestselling author Rachel Hawkins brings us a riveting middle grade fantasy-adventure, perfect for fans of Lisa Graff.

The town of Journey's End may not literally be at the end of the world, but it sure feels like it to Nolie Stanhope. Spending the summer with her scientist father in the tiny Scottish village isn't exactly Nolie's idea of a good time, but she soon finds a friend: native Journey's Ender Bel McKissick.

While Nolie's father came to Journey's End to study the Boundary--a mysterious fog bank offshore--Bel's family can't afford to consider it a threat. The McKissick's livelihood depends on the tourists drawn by legends of a curse. Still, whether you believe in magic or science, going into the Boundary means you'll never come back.

…Unless you do. Albert Etheridge, a boy who disappeared into the Boundary in 1914, suddenly returns--without having aged a day and with no memory of the past hundred years. Then the Boundary starts creeping closer to the town, threatening to consume everyone within.

While Nolie's father wants to have the village evacuated, Bel's parents lead the charge to stay in Journey's End. Meanwhile, Albert and the girls look for ways to stop the encroaching boundary, coming across an ancient Scottish spell that requires magic, a quest, and a sacrifice.
This book was sent to Compass Book Ratings for review by G.P. Putnam's Sons Books for Young Readers
Journey's End
by Rachel Hawkins
Overall Review:
A mysteriously, magical, yet somewhat creepy and spooky novel with three likable and relatable characters who meet up in Journey's End, a sleepy little Scottish village that is dealing with its own mysterious, or dare one say magical, troubles, namely a curtain of fog creeping closer to shore. Journey's End is also the name of the novel by Rachel Hawkins. Just like any mystery novel, it's hard to describe the events that unfold without giving too much away. Suffice it to say, this novel is so descriptively written, that the reader will feel as if they are walking around in the quaint village or exploring the rocky coastline, trying to solve the mystery behind the fog.
Nollie, an American who is visiting her dad (a scientist studying the fog), is a fan of all things paranormal. Bel is a resident of Journey's End and has ties to the sea and the tourist industry that the mysterious fog brings. And then there is Al, a boy who suddenly appears with a mysterious past. Together they form a friendship and are resolved on solving the mystery that is The Fog and therefore, save the village of Journey's End.
Journey's End is a perfect spooky novel for those who don't like the violence or gore that come with that genre sometimes. The characters and their dialogue are interesting and compelling, making this a novel to get lost in. That combined with the description of the coast of Scotland, transports the reader and allows them to feel as if they are really there.
Review of an Advance Reading Copy
Content Analysis:
Profanity/Language: None
Violence/Gore: 2-page account of a fairy foretelling death (creepy); story told of a person accused of throwing a boy out the window to his death, when he really fell and her punishment being set adrift out to sea in a rowboat (told twice but with the death of the boy being alluded to, not described); character says he'll dash someone's brains out if they come closer because he is scared; character punches her brother on the arm to show her frustration.
Sex/Nudity: Girl and boy hold hands.
Mature Subject Matter:
Death, divorce, paranormal events.
Alcohol / Drug Use:
None
Reviewed By Sally