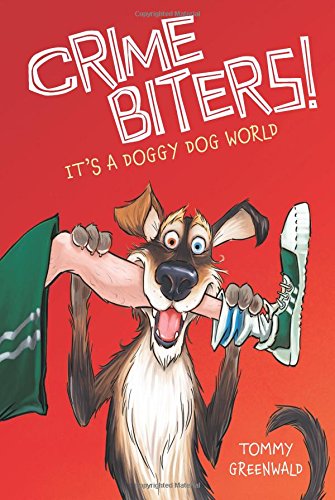 Publisher's Note:
Jimmy is sure that his dog Abby is special. After all, it was Abby who (with the help of Jimmy & friends) helped nab the criminal Barnaby Bratford and shut down Barnaby's babysitting service, a front for robbing the nice folks of Quietville. Jimmy's parents, on the other hand, are starting to feel like Abby is one destructive little dog (she chewed up Mom's entire shoe collection!) and they insist on enrolling Abby in obedience training. The only problem is that the longer Abby's in class, the more normal (read: boring) she becomes. Jimmy's superhero crime-fighting vampire dog is slowly becoming just like every other dog. She doesn't even sneak out at night anymore! At the same time Jimmy's friends (the Crimebiters) are realizing that there's just not very much crime to fight in their tiny town. But when Jimmy joins the lacrosse team & mysterious things start happening on and off the field, the Crimebiters realize that Abby better get back to her crime-fighting ways... and fast!
This book was sent to Compass Book Ratings for review by Scholastic Press (A Scholastic Imprint)
It's a Doggy Dog World (Crimebiters! 2)
by Tommy Greenwald
Overall Review:
Sometimes change is easy. But, sometimes it's hard to sink your teeth into.
Jimmy, Abbey, and the gang are back in the second installment of Tommy Greenwald's Crimebiters series. Crimebiters: It's a Doggy-Dog World finds our young, budding crime fighters ready to take on any evil doer that comes across their path. There is only one problem, there are no crimes that need to be solved. In that void Jimmy finds himself with some new responsibilities as his parents insist he take Abbey to obedience school and he joins the lacrosse team. Jimmy remains the relatable and enthusiastic young man we were introduced to in the first book, but the reader gets the privilege of watching him grow up a bit as he deals with new friends, situations and a few disappointments as well.
Crimebiters: It's a Doggy-Dog World a wonderful addition to an already fun and exciting series, and it is a must read for any budding detective.
Review of an Advance Reading Copy
Content Analysis:
Profanity/Language: None
Violence/Gore: Dog chases and tackles character; dog growls at character; girl implies boy will die on sports team; reference to dog biting/nearly biting people; many references to/instances of minor sports injuries; man gives boy encouraging back slap; dog pulls hard on character's arm; character refers to another's criminal past; several instances of athletic encouragement (back slapping, helmet thumping, etc); bench collapses; a few instances of good natured wrestling; boy kicks girl; man claps boy on the back; dog growls, jumps at character; character crashes car.
Sex/Nudity: Male teammate pats boy on butt; man in underwear jumps fence.
Mature Subject Matter:
Competition, illegal activity, sabotage, forgiveness, suspected supernatural.
Alcohol / Drug Use:
None
Reviewed By Amberle