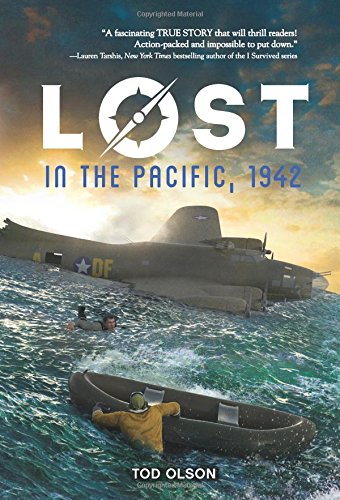 Publisher's Note:
World War II, October 21, 1942. A B-17 bomber drones high over the Pacific Ocean, sending a desperate SOS into the air. The crew is carrying America's greatest living war hero on a secret mission deep into the battle zone. But the plane is lost, burning through its final gallons of fuel.

At 1:30 p.m., there is only one choice left: an emergency landing at sea. If the crew survives the impact, they will be left stranded without food or water hundreds of miles from civilization.

Eight men. Three inflatable rafts. Sixty-eight million square miles of ocean. What will it take to make it back alive?
This book was sent to Compass Book Ratings for review by Scholastic Press (A Scholastic Imprint)
Lost in the Pacific, 1942 (Lost 1)
by Todd Olson
Overall Review:
In 1942 a B-17 bomber plane crash landed in the Pacific Ocean. The six crewmen and two passengers aboard set adrift in the plane's three small life rafts. They survived the impact but can they survive the ocean?
Lost in the Pacific, 1942 by Tod Olson is a remarkable true story that captivated the nation at the beginning of World War II and is once again capturing readers in this retelling. Written in the style of narrative non-fiction made so popular by writers such as Erik Larson (The Devil in the White City), Olson perfectly modifies this technique, usually reserved for adults, for his younger audience and in doing so manages to fascinate his readers simply by telling them a story. While there is very little dialogue in the book, the dialogue that is presented is taken from multiple corroborating sources. This gives the reader an entirely factual tale that reads like one of the best pieces of historical fiction out there. Maps, photographs and diagrams throughout the book help bolster is tangibility.
Lost in the Pacific, 1942 is an exciting must read that perfectly exemplifies the old adage truth is stranger than fiction.
Review of an Advance Reading Copy
Content Analysis:
Profanity/Language: 2 religious exclamations; 4 mild obscenities; 1 derogatory name (censored); 1 scatlogical word.
Violence/Gore: **On a whole the content of this book is mildly graphic, but is delivered in a historical, matter-of-fact way** Many references to wartime plane crashes and accidents; many reference to wartime casualties; reference to the dangers of landing a plane in the ocean; many references to battles and planes being shot down; plane shot by bullets; plane crashes; girl dies in accident (not war related); several references to the dangers of flying; reference to nearly dying an earlier accident; a few references of troops suffering from disease; several references to drowning; man wrenches his back; man cuts hand severely; men get sea sick; references to being eaten by sharks; reference to Amelia Earhart; men severely sunburned; men begin to starve to death; many references to killing/attempting to kill various birds and fish; a few references to cannibalism; men drink bodily fluids; men fear dying of dehydration; men suffer sores; man tries to kill himself; man dies.
Sex/Nudity: Men remove various pieces of clothing, never to full nudity.
Mature Subject Matter:
War, death, survival, danger, battle.
Alcohol / Drug Use:
A few references to drinking or smoking.
Reviewed By Amberle