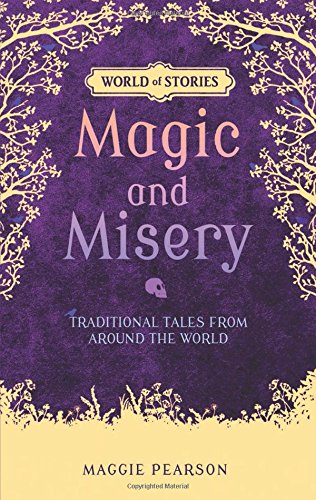 Publisher's Note:
A little old man learns the secret behind a magical fiddle. An undersea princess leaves her amber palace for love. A mule waits for revenge on the one who wronged her . . .

Explore folktales, myths, legends, and fables from around the world. From magical to funny, tender to terrifying, these stories carry the spirit of diverse cultures and traditions around the world.
This book was sent to Compass Book Ratings for review by Darby Creek Publishing
Magic and Misery: Traditional Tales from Around the World (World of Stories)
by Maggie Pearson
Overall Review:
Magic and Misery: Traditional Tales from Around the World by Maggie Pearson is a book from a five-book collection, World of Stories. Each book in the collection groups its stories around a different theme, but what they all have in common is that the stories come from a variety of cultures and countries. Magic and Misery has 28 stories, but rather than from "around the world", the stories are all from European countries. That said, the stories will be new to most readers. The word magic suggests fairytales, but these stories are more folktale in nature. Most of the stories have a magical element to them and some of them read more like a fable--although a moral or teaching is not explicitly stated, it is there all the same.
This is a quick read, with each story being its own chapter, and each chapter being only a few pages long. Underneath the title is the origin country (as best as could be determined) of the story.
This is a charming little book, and it would make a good read-aloud, either in the classroom or at home. The other books in the series are Fire and Ice, Ghosts and Goblins, Girls and Goddesses, and Serpents and Werewolves.
Content Analysis:
Profanity/Language: None
Violence/Gore: Frightening scene of pursuit; character steals a skull; report of death; magical creature fed a few drops of human blood; magical creature swallows people and animals whole; animal loses tail; character mistreats an animal; animal kicks a character; character bit by creatures/insects; threat to beat with a stick; death by drowning; parent takes children away and they are never seen again by other parent; character kills an animal and the animals claws are cut off; cnimals is stabbed, injury results in bleeding; fall (implied death); implied deaths; pain inflicted by magic.
Sex/Nudity: Characters are in love with each other; implied nudity when a character goes swimming.
Mature Subject Matter:
None
Alcohol / Drug Use:
None
Reviewed By Cindy