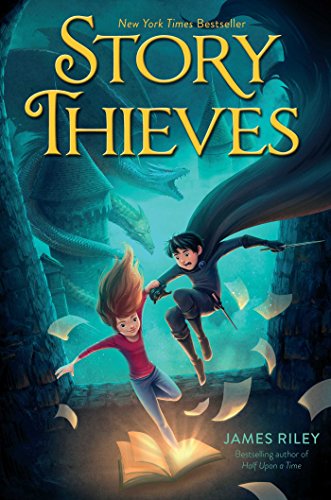 Publisher's Note:
A hilarious, action-packed New York Times bestselling series launches with a story-within-a-story, from the author of the Half Upon a Time trilogy.

Life is boring when you live in the real world, instead of starring in your own book series. Owen knows that better than anyone, what with the real world's homework and chores.

But everything changes the day Owen sees the impossible happen—his classmate Bethany climb out of a book in the library. It turns out Bethany's half-fictional and has been searching every book she can find for her missing father, a fictional character.

Bethany can't let anyone else learn her secret, so Owen makes her a deal: All she has to do is take him into a book in Owen's favorite Kiel Gnomenfoot series, and he'll never say a word. Besides, visiting the book might help Bethany find her father…

…Or it might just destroy the Kiel Gnomenfoot series, reveal Bethany's secret to the entire world, and force Owen to live out Kiel Gnomenfoot's final (very final) adventure.
Story Thieves
by James Riley
Overall Review:
Spell books and computers, winged cats and robotic soldiers, magicians and scientists, not to mention the small feat of bodily jumping in and out of books are just a taste of what awaits the reader in Story Thieves, the first book in the series of the same name by James Riley. What follows is a jumble of themes and characters that swirl around the reader as the storyline develops.
Bethany, the half-fictional heroine, has discovered her ability to dissolve into books while she is looking for her fictional father who is lost in an unknown book. She makes the mistake of accidentally exposing this talent to Owen, while both are enduring a boring math class. He tricks Bethany into taking him with her on an adventure into Owen's favorite book, Kiel Gnomenfoot and the End of Everything. Bethany has always followed the rule that while she is in a book, she is only an observer, but Owen has something else entirely on his mind and that changes everything.
Other personalities include Kiel Gnomenfoot who becomes a main character in Story Thieves while still starring in his own book. The Magister to whom Kiel is apprenticed and Dr. Verity, the Magister's arch enemy who cloned Kiel, all become involved with Bethany and Owen's story. This reviewer can't forget Charm, half-robot and half- human, who is Kiel Gnomenfoot's best friend, or that a spell book takes on a personality while the chase for the mysterious Seventh Key leads all the players past goblins, an Albino Red dragon, Science Soldiers, onto spaceships and into caves with ancient computers until they reach the Vault of Containment that holds the Source of Magic. Whew!
It would be an understatement to say there is a lot of action in Story Thieves. There is never a dull moment while these two stories simultaneously build to their conclusions. In addition to being fast-paced, the author's style is quick-witted and funny which comes through in the interchanges between the characters. Because the story development moves so quickly, a reader risks getting lost if he doesn't pay attention to the characters. At first, this reviewer thought this book would be mainly the exchange of magic versus science and the characters would be incidental. However, Mr. Riley skillfully creates transformations to their personalities, especially Owen. There are also many themes in the book but this sentence summed it up for this reviewer, "After all, books were the truest form of magic that existed…" Every reader will discover which theme speaks to him.
Just a short word about James Riley. He spent most of his life in the Midwest and developed a love of reading early. The reader will notice many well-known titles are incorporated into Story Thieves. He has worked with Disney and authored the award-winning Half Upon a Time series. He describes himself as witty to the point of being ridiculous which is pleasantly apparent in the Story Thieves series.
Content Analysis:
Profanity/Language: None
Violence/Gore: Many brief conflicts (no blood or gore involved) between advocates of magic and science as they fight over control of two fantasy worlds involving dragons, spells, robotic soldiers, etc.
Sex/Nudity: None
Mature Subject Matter:
War, separation of family.
Alcohol / Drug Use:
None
Reviewed By Marilyn