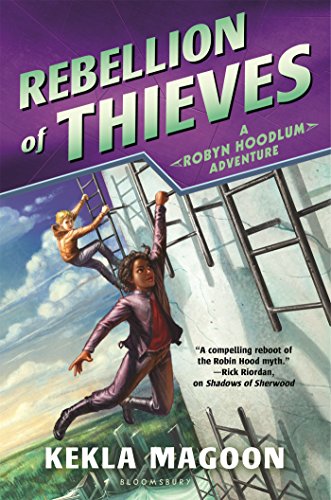 Publisher's Note:
Robyn Loxley can't rest now that she's the #1 Most Wanted Fugitive, Robyn Hoodlum. The harsh Nott City governor, Ignomus Crown, may have increased the reward for her capture, but this won't stop Robyn from masterminding her biggest mission yet: infiltrating the governor's mansion to rescue her parents.
The perfect opportunity arises when the Iron Teen contest comes to Sherwood. If Robyn scores high enough, she'll be invited to a dinner at the mansion. But performing well in the contest could put her directly in Crown's sights. Can she and her crew of misfit friends pull off such a grand scheme, or are they walking into bigger trouble than they can handle?
This book was sent to Compass Book Ratings for review by Bloomsbury Children's Books
Rebellion of Thieves
by Kekla Magoon
Overall Review:
Kekla Magoon delivers the next exciting installment of A Robyn Hoodlum Adventure, in her latest novel Rebellion of Thieves. This dystopian-like series takes the tale of Robin Hood and turns it into an exciting modern adventure with a 12-year-old female version of Robin. She follows her namesake in fighting for the cause of fairness and justice, showing courage and daring. However, she is also seen as the leader and heroine of a rebellion that is to get rid of the new oppressive government. This novel takes us to the tournament scenario, that those familiar with the Robin Hood adventure will recognize, making this a fast-paced novel filled with adventure and daring.
The Rebellion of Thieves takes the rebellion to the next level, and Robyn is left wondering if she really wants to be the leader of this movement. Robyn has an agenda of her own and sometimes it gets in the way of what others want her to do. Eventually, she needs to decide if she wants to be the head of the movement, or if her personal agenda is more important and what all this means for her. The novel is a refreshing take on the dystopian genre and keeps it free from the violence that often accompanies the genre, making this a perfect novel for younger readers. To really understand what is going on, the reader really should start with the first book in the series, Shadows of Sherwood.
Review of an Advance Reading Copy
Content Analysis:
Profanity/Language: None
Violence/Gore: Secondhand account of people being "wiped out" and disappearing at the hand of another person; crime described as punishable by death; secondhand account of people being forceibly removed from their homes by the opposition; character hits another with traffic cones and punches them; character points a gun at another person; character detains another with duct tape; character grabbed by the throat by guard; character kicks a guard to break free.
Sex/Nudity: Boy and girl embrace and kiss another on the cheek.
Mature Subject Matter:
Oppressive government, kidnapping, stealing and plundering.
Alcohol / Drug Use:
None
Reviewed By Sally