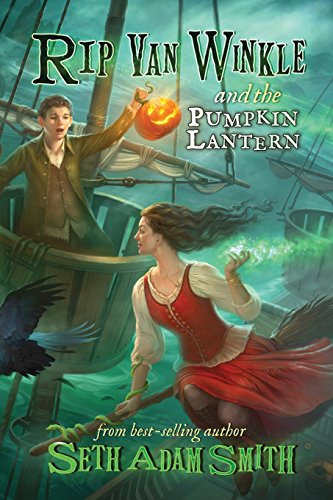 Publisher's Note:
Chased by a vengeful witch, hunted by an undead corpse, and guided by a secretive preacher, a boy must protect a magical lantern that can either save Boston . . . or destroy it.

In October of 1730, young Rip Van Winkle sneaks into a graveyard and comes face-to-face with the ghost of William Blaxton, the first settler of Boston. Warning Rip that the city is in danger, Blaxton gives him a mysterious gift: a pumpkin lantern with power over life and death. Before fading into midnight, the ghost tells Rip to take the lantern to Feathertop, a mythical pumpkin-headed scarecrow.

Pursued by Mistress Hibbins, a witch of terrifying power, and hunted by the nightmarish Midnight Minister, young Rip must rely on the aid of Jonathan Edwards, a stern and secretive preacher, and Nathaniel, a talkative, know-it-all raven. Guided by the magical light of the lantern, Rip races across New England to find Feathertop, save Boston, and become a most unlikely hero!

From the bestselling, award-winning author Seth Adam Smith comes The Pumpkin Lantern--a fantasy novel influenced by the writings of Nathaniel Hawthorne, Lloyd Alexander, and C. S. Lewis. Loaded with humor, action, suspense, and fascinating American history, The Pumpkin Lantern is also a poignant fable about faith, family, and the power of life over death.
This book was sent to Compass Book Ratings for review by Berrett-Koehler Publishers
Rip Van Winkle and the Pumpkin Lantern
by Seth Adam Smith
Overall Review:
Rip Van Winkle and the Pumpkin Lantern blends a little bit of mythology, a little bit of folklore, and a whole lot of imagination into something that is at once wonderfully simple and simply wonderful.
Set in Boston, 1730, the story starts out rather darkly with a young couple venturing into a graveyard one night to discover a child left to die in an open grave. Named after the inscription R.I.P. on the gravestone, young Rip Van Winkle has an ability to tap into the life of most things and encourage them to grow. He brims with a potential "light" that destines him for great things. But at a critical time, when his light is most needed to defend Boston against ancient and malevolent evil, sorrow strikes the Van Winkle family and Rip's light is overshadowed with darkness. If he doesn't recover in time and regain that spark, all of Boston may be extinguished.
The story is a little slow to start and rambles a bit. It takes its time developing the setting and plot. However, once we get to Rip's "crisis" moment, Seth Adam Smith delivers a tale of unique characters, interesting villains, and correlations between symbols, legends and fairytales that are quite inspired. Filled with pirates, witches, imps and nightmares, and a particularly friendly scarecrow, there is a refreshingly Christian undertone regarding the importance of faith and letting one's light shine. Rip Van Winkle and the Pumpkin Lantern is a fantasy that will likely appeal to readers of Donita K. Paul's Dragonquest Chronicles or M.L. Forman's Adventurers Wanted series.
Content Analysis:
Profanity/Language: None
Violence/Gore: A child is left in a graveyard; characters sometimes have nightmares; There are a few frightening scenes in a graveyard; characters sometimes recall past deaths; a character is said to have a bruise on her wrist; a character implies someone's disappearance was suspicious; a character punches another in the stomach; a plant magically attacks a character; a character's family is reported to have been killed; a character coughs up blood; a character's husband is said to have been lost at sea; characters play with a makeshift catapult and cannonball; a few characters die of sickness; a few characters die in battle; character's past execution is occasionally mentioned; character blames himself for the death of another; characters occasionally fight; characters fight over a magical object, with some description of injuries; a character occasionally has flashback visions that can be frightening and/or disturbing; characters are threatened by the undead; characters occasionally engage in magical battles (not overly graphic); character playfully smacks another with a wooden spoon; characters discuss someone's past sacrifice; characters confront an immortal villain; character reveals she sacrificed a baby's life to achieve immortality; character squashes a snake's head "like an overripe peach"; a few characters fall from long distances, with some injuries; characters travel through an eerie, misdirecting wood; characters are surrounded by angry animals; character describes a stillborn baby's monstrous deformity; character eats a fruit that gives him stomach pains; character discovers mythical creatures have enthralled a household; character is wrapped in chains; fire burns down an old building; characters battle a witch; characters use magic to kill or maim others; character steals others' lifeforce to sustain immortality; characters are occasionally threatened by magical storms; characters are occasionally held captive; characters plot to kill someone; characters battle an army of the dead; character is thrown a distance, sustaining injuries; character tries to strangle a boy; two magical creatures fight each other with some minimal description of injuries; A character is destroyed with magic.
Sex/Nudity: A husband and wife are in bed together (not sexual); a child is presumed to have been born out of wedlock; a character refers to an argument between a man and a woman as a lover's quarrel; two characters have feelings for each other; two characters subtly flirty; a character relates brief details of a long-ago affair; a character is said to have delivered a child; a character plans to propose to another; a boy hugs a male character (not sexual).
Mature Subject Matter:
Gossip, homelessness, child abuse, sickness, abandonment, grief, death, battle, possible birth out of wedlock.
Alcohol / Drug Use:
Characters go to a tavern; characters infrequently drink; a character is given an enchanted fruit that makes him ill; a character is magically drugged.
Reviewed By Katrina