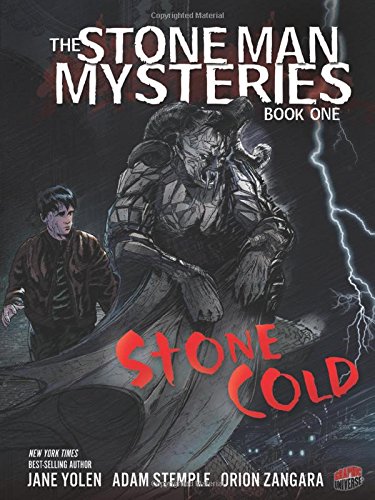 Publisher's Note:
When young runaway Craig prepares to jump from a church rooftop, his salvation comes in the unholy shape of Silex: a beast trapped in the form of a gargoyle. Silex runs an investigative service, chasing redemption from atop his perch. And he needs a young lad to do his footwork.

Craig begins his new life by probing a series of murders that has menaced Scotland. The scenes are frightening, the motivation is a mystery, and the authorities are no help. So along with Father Harris, a hard-edged man of the cloth, Craig steps onto the streets of Edinburgh and toward the dangerous task of catching a killer.
This book was sent to Compass Book Ratings for review by Lerner Publishing Group
Stone Cold: The Stone Man Mysteries, Book One
by Jane Yolen & Adam Stemple
Overall Review:
Stone Cold by Jane Yolen and Adam Stemple is the first book in the graphic novel series, The Stone Man Mysteries. Set in Scotland, this novel is really a mystery first, but it also has a fantasy element. Although the initial mystery is solved (mostly), it is definitely a set-up for a deeper plot/conspiracy. Usually graphic novels are a quick read, but this one required a little more effort because the dialogue left a few gaps; this resulted in a little bit of a disjointed feel at times.
Illustrated by Orion Zangara, the artwork is exclusively black and white. Many of the scenes are quite detailed. The style of artwork did make some of the characters appear quite similar at times, thus requiring the reader to be extra attentive in order to avoid confusion.
Although this is technically a middle grade graphic novel, with its male protagonist, cool gargoyle spin, and gritty artwork, it has a lot of upward "guy" appeal and even high schoolers will feel its draw.
Content Analysis:
Profanity/Language: 1 religious exclamation.
Violence Gore: Report parent died of fever; report parent knocked child around; character found in murdered with slit throat, knife stabbed in body (1 panel); character considers jumping from rooftop/suicide; adult slams kid's head onto bar counter; report of multiple murders; characters investigate crime scene & hypothesize on murder; innuendo/implied untimely death of a young person (age not specified); 1 page scene where a murder is interrupted and scuffle ensues resulting in severe injury; report that a boy killed a character at the character's request; verbal threat; struggle resulting in a fall and ultimately death.
Sex/Nudity: None
Mature Subject Matter:
Murder, paranormal/demons.
Alcohol / Drug Use:
Reference to a father that drank; a couple of scenes take place in a tavern/bar.
Reviewed By Cindy