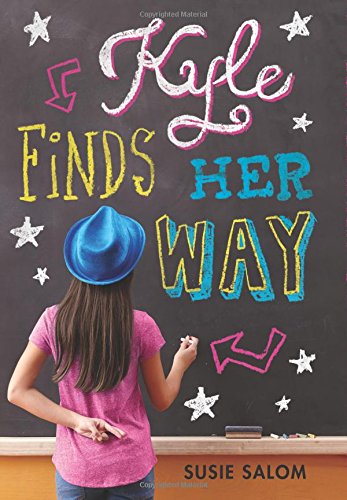 Publisher's Note:
On the first day of sixth grade, Kyle Constantini lands in the principal's office after standing up against (that is, punching) Ino Nevarez, who was teasing a deaf girl at school. Her punishment? Join the NAVS program, which teaches constructive problem-solving (that is, not punching).

Kyle loves NAVS, where her team competes in a challenge to navigate a maze. But her parents refuse to let her participate... so Kyle may just have to fudge the truth a bit to get around them. Then her best friend starts to crush on a cute new English boy, who seems to be interested in -- Kyle? As the NAVS competition approaches, she has to trust her instincts, take some good advice, and figure out her way through the amazing maze of middle school.

Rich characters, a big heart, and a witty, warm voice make Kyle Finds Her Way a debut worth discovering.
This book was sent to Compass Book Ratings for review by Arthur A. Levine (A Scholastic Imprint)
Kyle Finds Her Way
by Susie Salom
Overall Review:
It is a big year for Kyle; a new school, new friends and big consequences.
Kyle Finds Her Way by Susie Salom is a cute coming of age story as the main character, Kyle, starts middle school. Kyle is a smart, fun character with a knack for acting without thinking and, as a result, seems to find herself continuously in trouble. Many young readers will be able to relate to her as she struggles to find her balance in a world full of new accountabilities. Overall Salom's story is a great journey about growing up and self-discovery. However, most of that discovery is told through the lens of overblown and exaggerated "new-age" sentiments that, while they may be more believable with an older character, coming from an eleven-year-old leans more towards the absurd than profound. The characters develop well throughout the story and the author make good use of voice throughout. Salom utilizes jargon, lazy English and copious amounts of made up slang in attempts to be colloquial or clever. Unfortunately, it is used to such excess that it simply comes off as distracting, or down-right obnoxious.
While it has its faults, Kyle Finds Her Way is a fun, quick read that at its core has good messages about trust, friendship and honesty.
Review of an Advance Reading Copy
Content Analysis:
Language/Profanity: 10 religious exclamations.
Violence/Gore: Girl punches boy; reference to woman passing away; girl offers to kick boy; boy knocks girls hat off; a few instances of a girl wanting to throw various objects at a boy; character chokes on gum; woman playfully swats at man.
Sex/Nudity: Wife kisses husband on cheek; female friends hug (platonic); boy references sex; girl alludes to nude scene in a movie; girl kisses boy on cheek; many references to crushes.
Mature Subject Matter:
Bullying, family, growing-up.
Alcohol / Drug Use:
None
Reviewed By Amberle