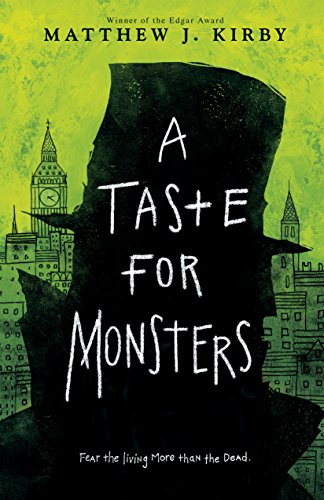 Publisher's Note:
London 1888, and Jack the Ripper is terrorizing the people of the city. Evelyn, a young woman disfigured by her dangerous work in a matchstick factory with nowhere to go, does not know what to make of her new position as a maid to the Elephant Man in London Hospital. Evelyn wanted to be locked away from the world, like he is, shut away from the filth and dangers of the streets. But in Joseph Merrick, the Elephant Man, she finds a gentle kindred, who does not recoil from her, and who understands her pain.

When the murders begin, however, Joseph and Evelyn are haunted nightly by the ghosts of the Ripper's dead, setting Evelyn on a path to facing her fears and uncovering humanity's worst nightmares, in which the real monsters are men.

A terrifying and haunting tale from the Edgar and PEN Award-winning author of Icefall, Matthew J. Kirby.
This book was sent to Compass Book Ratings for review by Scholastic Press (A Scholastic Imprint)
A Taste for Monsters
by Matthew J. Kirby
Overall Review:
Various outlets have described this book as horror or mystery genre. It certainly has aspects of each. But within the greater story of Evelyn and Joseph is a story of a girl, making peace with her ghosts and learning that no matter what the outside looks like, inner beauty can come shining through.
Evelyn has been horribly disfigured. Working in a factory in Victorian England where she assembled matches (like the kind you burn) she suffered horrible disfigurement of her jaw from a disease known as "phossy jaw". This is a disease where over time the phosphorus used in the making of these matches eats through the bone and skeletal structure of the jaw and skull.
Joseph Merrick is a permanent resident of the London Hospital. Referred to as the "Elephant Man", he has come to reside here after stints on the streets of London and as a sideshow entertainment attraction. Joseph is so disfigured that most people cannot stand to look upon him. He lives a quiet life as the hospitals only permanent resident and entertains visitors from every class of society.
While Joseph and Evelyn are a seemingly odd pair, when Evelyn comes to the hospital in desperate need of work, the matron finds in her a caregiver who may be able to tolerate Joseph's deformities better than any other. An unlikely friendship is formed. Each valuing the other for more than just outward appearances. A great redemptive story is born of the power of friendship and how really getting to know a person takes ones far beyond what everyone else can see.
However, this book does have a grizzly overtone. It is set in the period of "Jack the Ripper." Throughout the book, murder victims in the form of ghosts come to visit Joseph and Evelyn. The murders and victims are described in rather graphic detail. The ghosts come and go at the same hours throughout each night until Joseph and Evelyn can put them at ease. Throughout the book, the general public has an anti-Semitic tone (the murderer is thought to be Jewish) and the victims are all referred to as ladybirds and prostitutes.
While not a "can't-put-it-down" read, the book does have an interesting plot line. The characters are well-developed and true to the period of literature. The conclusion seems a little abrupt and the story line drops rather awkwardly in the last chapter, but other than that, this novel is not a bad read--especially as we enter the Halloween season.
Content Analysis:
Language: 2 religious exclamations, 5 mild obscenities, 3 derogatory names, 1 anatomical term.
Violence and Gore: Description of police being hurt or killed if they enter a certain area of the city; recall of father's murder and having to identify the body; people discuss a stabbing victim story in the newspaper; report of a dock fire with injured workers; young boy dies of a fever; arm is bruised when someone grabs in fear; one page fist fight between adults; adult women punches adult man in a rib she knew was already broken; women wakes up next to dead body in boarding house; numerous instances of ghosts coming into rooms screaming, yelling, and frightening inhabitants; ghost claws tattoo on her arm until arm is bloody, flesh is torn away and bone can be seen; a nurses apron is covered in blood when she exits a hospital ward; description of murder victims bodies being cut, throats slashed, disemboweled, various organs removed and in one case the arms and legs being cut off and laying by body (very graphic detail on two occasions, lesser details on three more);
Sex/Nudity: Man and woman walk arm in arm (twice); female strips off clothes and gets into bathtub (twice, no graphic detail); several references to prostitutes and prostitution; implied sexual encounters (three times); man squeezes female's breast very hard against her wishes.
Mature Subject Matter:
Religious discrimination (anti-Semitism), socioeconomic clashes, death of children, family members and friends; serious disfigurement; gambling; paranormal (ghosts and spirits), robbery, murder, prostitution.
Alcohol / Drug Use:
Adults drink in taverns; father is an alcoholic; females are described as being alcoholics.
Reviewed By Beckie