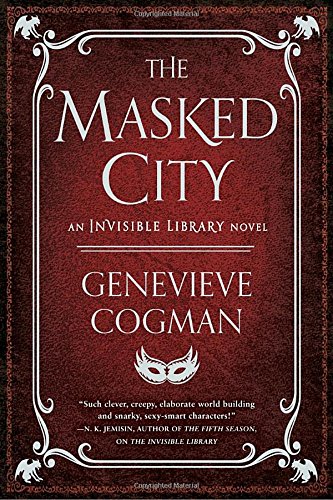 Publisher's Note:
Librarian-spy Irene and her apprentice Kai are back in the second in this "dazzling"* book-filled fantasy series from the author of The Invisible Library.

The written word is mightier than the sword—most of the time...

Working in an alternate version of Victorian London, Librarian-spy Irene has settled into a routine, collecting important fiction for the mysterious Library and blending in nicely with the local culture. But when her apprentice, Kai—a dragon of royal descent—is kidnapped by the Fae, her carefully crafted undercover operation begins to crumble.

Kai's abduction could incite a conflict between the forces of chaos and order that would devastate all worlds and all dimensions. To keep humanity from getting caught in the crossfire, Irene will have to team up with a local Fae leader to travel deep into a version of Venice filled with dark magic, strange coincidences, and a perpetual celebration of Carnival—and save her friend before he becomes the first casualty of a catastrophic war.

But navigating the tumultuous landscape of Fae politics will take more than Irene's book-smarts and fast-talking—to ward off Armageddon, she might have to sacrifice everything she holds dear....
This book was sent to Compass Book Ratings for review by Roc
The Masked City (An Invisible Library Novel)
by Genevieve Cogman
Overall Review:
Protagonist Irene Winters, librarian extraordinaire, is back in force in the second installment of The Invisible Library Series. Tenacious, resourceful, loyal, and retaining her droll sense of humor through it all, she is a force to be reckoned with; in fact, she would give Ethan Hunt of Mission Impossible a run for his money.
This novel is a pulse-pounding, high-adrenaline ride in which Irene is racing the clock to save her apprentice and colleague, Kai. It takes Irene to a new, chaos-filled world/dimension, where by ingenuity, librarian magic, and nerves of steel she careens from one challenge to the next. Just when the reader thinks she has made it, Irene is yet again thrown into the lion's den.
This book did not disappoint and delivered on all the promises from the first in the series, The Invisible Library. A third installment is out in January 2017. In the meantime, readers should be prepared to lose some sleep and miss their train stop as they are swept up in an un-puttable-downable adventure with one of the most captivating protagonists to come along in quite some time.
Review of an Electronic Advance Reading Copy
Content Analysis:
Profanity/Language: 7 religious exclamations; 11 mild obscenities; 2 derogatory names.
Violence/Gore: Extended fight between characters involving punching, kicking, slamming heads into wall, nets, mention of character spitting blood, injuries and unconsciousness occur; abduction; attempted poisoning; extended fight scene involving punching, fighting with magic, resulting in some serious (non-described) injuries; various verbal threats (sometimes with weapons involved); attempt to rob a character; extended fight scene involving misc. weapons (umbrellas, razors, etc.) resulting in injuries (non-descriptive); character strains at restraints until blood runs down wrists; character says she will cut out someone's heart and put on a sacrificial alter (half in jest); character kicked in stomach; characters scuffle; punch and kick another; character chased and tasered; character's nose bleeds when over-extensions occur; characters are chased and shot at with an injury resulting in blood loss; character almost strangled; characters pursued, and shot at in extended scene, destruction of property and peril, minor injuries; character attacked by enchanted object; character deliberately cuts had to get blood; reference to past encounters/escapades; extended scene in which magic makes objects explode resulting in severe injury (mention of blood, and bone showing), with biting until blood is tasted, attempt to choke, and stabbing of character through the heart resulting in death.
Sex/Nudity: Women loitered on street corners (vague innuendo); character notices another's physical attractiveness and thoughts start to wander/fantasize briefly; innuendo; character thinks that a character has strongly suggested he might be interested in something (vague); female character thinks about embracing male character; magical character tries to seduce female character using magical influence on her thoughts, but it is recognized as such; male touches females wrist; character briefly thinks on how another character of the opposite sex has suggested they go to bed; extended scene (non-detailed) involving shooting of guns, hitting in throat/groin, giving chase; kiss on hand; mention of lovers; character passes train car and sees "tangled bodies"; reference to seducing heroes; scantily clad character; character implies affairs as a diversion; character attempts to seduce another touching face, whispering, etc.; reference to indecent women passing with nearly bared breasts; character thinks about kissing another; female character vaguely implies to another female character that she might be open to seduction (this is in an attempt to get her to cooperate so an escape might be initiated) and is hugged by character. who she pries off; male character grabs another's hands and holds.
Mature Subject Matter:
Kidnapping/abduction, death, war, espionage/undercover activity.
Alcohol / Drug Use:
Drinking at a tavern; magic spell causes character to get quite drunk; poisoned wine; brandy explodes; characters drink liquor; mention someone had a problem with drinking.
Reviewed By Cindy