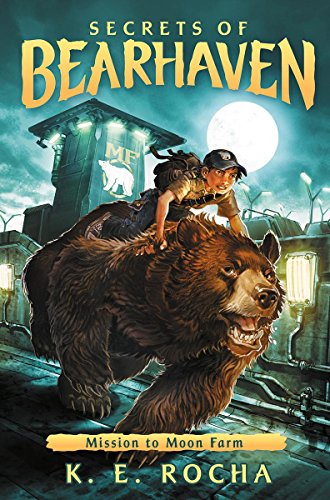 Publisher's Note:
A few weeks ago, Spencer Plain had never been to Bearhaven. He was rebuilding a computer and eating peanut butter toast and going to school. Normal, human things.

But now his parents are missing, he's living with a family of bears and learning how to speak Ragayo (the bears' language), and has already been on a rescue mission that saved two cubs and their mother.

Spencer's ready to go on more missions, but when he uncovers a secret that every bear's been keeping from him, he storms out of Bearhaven, determined to find his parents. While he's gone, his best bear cub friend, Kate, is kidnapped, and soon Spencer is caught up in a daring mission to bring her back before it's too late!
This book was sent to Compass Book Ratings for review by Scholastic Press (A Scholastic Imprint)
Mission to Moon Farm (Secrets of Bear Haven 2)
by K. E. Rocha
Overall Review:
Spencer is back in the long awaited second book in the Secrets of Bearhaven series, Mission to Moon Farm.
Spencer has been training hard for the last two weeks; ready at any moment to help rescue his parents from Pam and his evil ring of bear abuse. However, Spencer finds he still has a lot to learn after a moment of angry recklessness puts Kate in serious danger.
K.E Rocha's thrilling sequel ups the ante on excitement in this action-packed adventure. Spencer is still the remarkable young man that the reader was introduced to in Secrets of Bearhaven. But, in Mission to Moon Farm we get to grow with him a bit as he faces the very real, and dire, consequences of his actions. Along with all the familiar faces, Rocha also gives the reader the opportunity to get to know a few other characters, introduced in the first book, better. Yude, the grumpy council member, and Kirby, the snoopy young human girl, both provide Spencer with some wonderful insight into himself and how his decisions might affect things.
Just as good as the first, the stakes are raised and the reader is captivated by it.
Content Analysis:
Profanity/Language: None
Violence/Gore: Boy rescues bear from river; cubs trip over each other; girl hits boys hand; animal charges girl; reference to mother bears being dangerous; boy nearly hits girl; several references to bears being mistreated/abused/killed; bear drops boy out of tree; bear snaps at boy; bear has ear tagged; extended scene of bear attack (non-graphic); boy has wind knocked out of him; bear drops into the ocean; people throw concrete at boat; people sink boat.
Sex/Nudity: None
Mature Subject Matter:
Animal abuse, illegal activity, activism, consequences.
Alcohol / Drug Use:
None
Reviewed By Amberle