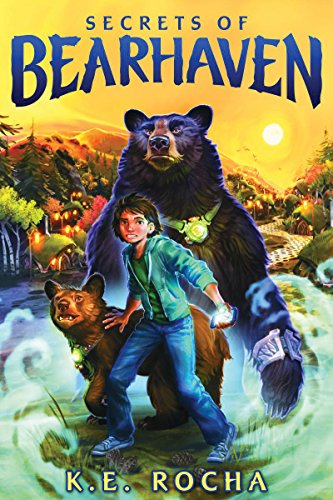 Publisher's Note:
It starts with a chase. When Spencer Plain is pulled out of school in the middle of the day, he never expects to be speeding down the highway with his uncle, trying to outpace the car that's tailing them. And he certainly never thought he'd find himself fleeing from a bear through the woods.

And when he hears the bear say "We've been expecting you," Spencer knows he's just uncovered a whole world he'd never imagined. He's brought to Bearhaven, a secret oasis his parents created for bears.

But there are depths to Bearhaven that Spencer and his new bear cub friend, Kate, start to uncover. Spencer finds out he's been there before, even if he can't remember. He also stumbles into a rescue mission being planned, to save a bear in danger. He knows he can help, and he's desperate to find clues to his parents' whereabouts, so he and Kate decide to take matters into their own hands - even if they discover a secret that could threaten Bearhaven's future!
This book was sent to Compass Book Ratings for review by Scholastic Press (A Scholastic Imprint)
Secrets of Bear Haven
by K. E. Rocha
Overall Review:
Spencer thought he knew everything about bears--and, everything that his parents' job as bear rescuers and advocates entailed. Then one seemingly ordinary day Spencer learned that he didn't know the half of it.
Secrets of Bearhaven by K.E. Rocha is an exciting adventure with a whole heaping of heart. The main character, Spencer, is a resourceful young man whose compassion is only matched by his courage. Yet he also exhibits many of the flaws one would expect of a 12-year-year-old: rash, head strong and stubborn. All in all, however, where his qualities make him likable, his shortcomings make him infinitely relatable. Kate, his self-appointed guide/coach/sidekick, is an enthusiastic and lovable bundle of fur whose personality is so authentic that the reader forgets at times she is a bear. All of Rocha's characters, whether they be bear or human, are intelligent and compassionate, exhibiting the best traits of family and community.
Secrets of Bearhaven is an engrossing page-turner that readers will devour. However, much of the subject matter deals with the abuse and mistreatment of bears and animal rescue which can be intense and troubling. Despite, or perhaps because of the difficult nature of the story, readers can't help but become invested along with the characters; cheering for victories and feeling the disappointments.
Content Analysis:
Profanity/Language: None
Violence/Gore: Boy chased by bear; bird catches toad; bear pins boy to the ground; boy falls down; character kidnapped; character chokes on sandwich; many references and descriptions of animal abuse or mistreatment, mainly bears; character steps on bear; bear stumbles into character; bears tell boy his water is really "bug blood"; bear kicks character; reference to boy's grandfather passing; character falls over branch; extended scene depicting a Bear Baying (or Baiting) involving cubs; characters captured; character sits on chair made of various bear parts; character struggles when captured; bear lunges at character; character locked in cage; bear attacks character.
Sex/Nudity: None
Mature Subject Matter:
Animal abuse, nature of humanity, illegal activity, activism.
Alcohol / Drug Use:
None
Reviewed By Amberle