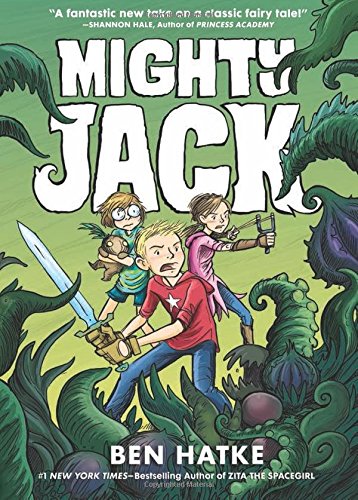 Publisher's Note:
Jack might be the only kid in the world who's dreading summer. But he's got a good reason: summer is when his single mom takes a second job and leaves him at home to watch his autistic kid sister, Maddy. It's a lot of responsibility, and it's boring, too, because Maddy doesn't talk. Ever. But then, one day at the flea market, Maddy does talk?to tell Jack to trade their mom's car for a box of mysterious seeds. It's the best mistake Jack has ever made.
In Mighty Jack, what starts as a normal little garden out back behind the house quickly grows up into a wild, magical jungle with tiny onion babies running amok, huge, pink pumpkins that bite, and, on one moonlit night that changes everything…a dragon.
This book was sent to Compass Book Ratings for review by First Second Books
Mighty Jack
by Ben Hatke
Overall Review:
Mighty Jack is an exciting new series from Ben Hatke, bestselling author of Zita the Spacegirl. An amusing spin on the fairy tale Jack and the Beanstalk, the author cleverly revamps the classic fable by modernizing several aspects of the story to make it more applicable to children today.
With a contemporary setting, Jack, his autistic sister Maddy, and their single mom are introduced to readers. Right away readers can see Jack has a lot on his plate. With his mom bogged down by debt and a heavy work load, Jack must take on a lot of responsibilities, one of those being tending to his sister Maddy for the Summer.
Through a series of mysteriously odd circumstances, Jack and Maddy acquire some strange seeds for their summer garden. I don't want to give too much away about the garden, but let's just say these seeds literally take on a life of their own.
The author did a great job with making the story up-to-date and incorporating subjects children are more aware of today, such as growing up in a single parent home, having a family member with certain limitations or needs such as autism, and in some cases the need for an adolescent to take on mature duties to help out the family.
The colorful illustrations are so much fun because it amplifies the garden and all the different plants that Jack, his friend Lilly, and sister Maddy encounter. Pay attention to each picture panel, because they tell the story even more than the dialogue. An adventurous, fast-moving tale that will no doubt please. This new series is something kids can dig into.
Content Analysis:
Profanity/Language: None
Violence/Gore: Character sees another character playing with a sword; character says that when they were younger they set a vehicle on fire; character throws rocks at another character; extended scene (about 6 pages) fantasy creatures throw mud and rocks at characters, characters try to fight them off; character shoves another character into the water; extended scene (about 10 pages) character fights off attacking fantasy creatures with weapon; extended scene (about 1 page) character tries fighting off magical creature; character falls down and is knocked unconscious; extended scene (about 12 pages) character tries destroying magical creature/land, child character sets land on fire (no human hurt); character slaps another character across the face; character playfully hits sibling 2x; character threatens their sibling with a shovel (good humored); character witnesses their sibling being kidnapped by a magical creature.
Note: Though not violent, a child makes a dangerous decision by giving parent's car keys to a stranger.
Sex/Nudity: Male character is depicted without shirt 2x; character's sibling teases them about having a romantic interest in another character; male and female character hold hands.
Mature Subject Matter:
Single parent, autism, debt.
Alcohol / Drug Use:
None
Reviewed By MaryLou