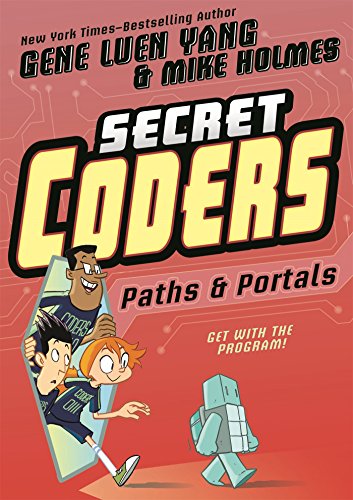 Publisher's Note:
Gene Luen Yang is the National Ambassador for Young People's Literature.
There's something lurking beneath the surface of Stately Academy?literally. In a secret underground classroom Hopper, Eni, and Josh discover that the campus was once home to the Bee School, an institute where teachers, students, and robots worked together to unravel the mysteries of coding. Hopper and her friends are eager to follow in this tradition and become top-rate coders. But why are Principal Dean and the rugby team suddenly so interested in their extracurricular activities?
From graphic novel superstar (and high school computer programming teacher) Gene Luen Yang comes the second volume of Secret Coders, Paths & Portals, a wildly entertaining new series that combines logic puzzles and basic programming instruction with a page-turning mystery plot!
This book was sent to Compass Book Ratings for review by First Second Books
Paths & Portals (Secret Coders #2)
by Gene Luen Yang
Overall Review:
Starting off right where Secret Coders concluded, author Gene Luen Yang and illustrator Mike Holmes continue to excite young readers with coding in the second book in the series, Paths and Portals (Secret Coders #2).
While the first book of the series focused on binary codes, the sequel spotlights program coding as Eni and Hopper team up with some unlikely allies to continue to uncover the mysteries buried at Stately Academy.
Unfortunately, the secrets of the school barely surface as the majority of the story takes a side step as basic computer coding is explained. A fun twist for readers is at the end of each chapter the narrator becomes interactive and challenges them to try and come up with coding for themselves. This interplay is perfect for readers who enjoy number puzzles and want to get in on the same action as the characters.
In such a digital age where children younger and younger are using electronics, this book is a splendid way to introduce them to a very basic form of how they can decipher and come up with codes for themselves.
Content Analysis:
Profanity/Language: None
Violence/Gore: Child rudely yells at parent 2x; character steals something; mention of getting attacked by robots and almost getting expelled; character hits another character over the head 2x; characters are chased and feel threatened by a group of other characters; characters tie up other characters (funny); few picture panels showing children tackling and punching one another; character pinches another character 2x; character is tied up and threatened with violence.
Sex/Nudity: Female child character kisses male child character on cheek; child of a single parent complains that they come from a broken home.
Mature Subject Matter:
Bullying, unknown whereabouts of parent.
Alcohol / Drug Use:
None
Reviewed By MaryLou