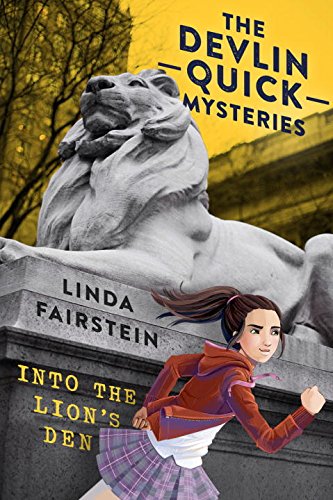 Publisher's Note:
Watch out, Nancy Drew—Devlin Quick is smart, strong, and she will DEFINITELY close the case in this thrilling new mystery series for girls and boys from New York Times bestselling author Linda Fairstein

Someone has stolen a page from a rare book in the New York Public Library. At least, that's what Devlin's friend Liza thinks she's seen, but she can't be sure. Any other kid might not see a crime here, but Devlin Quick is courageous and confident, and she knows she has to bring this man to justice—even if it means breathlessly racing around the city to collect evidence. But who is this thief? And what could the page—an old map—possibly lead to? With her wits, persistence, and the help of New York City's finest (and, okay, a little bit of help from her police commissioner mother, too), Dev and her friends piece the clues together to uncover a mystery that's bigger than anyone expected—and more fun, too.

With all of the heart-pounding excitement that made her internationally bestselling Alexandra Cooper series a hit, Linda Fairstein paves the way for another unstoppable heroine . . . even if she is only twelve.
This book was sent to Compass Book Ratings for review by Dial Books for Young Readers
Into the Lion's Den (The Devlin Quick Mysteries)
by Linda Fairstein
Overall Review:
Just as so many other adult authors (such as John Grisham and James Patterson) are doing these days, author Linda Fairstein is talking a dip in the younger end of the reading pool. Into the Lion's Den is a middle grade mystery set in current day New York City--complete with Uber and technology. Devlin, the protagonist, is a spunky twelve-year-old who has a fluid relationship with 100% truth ("fiblets") and as a real go-getter, she sometimes leaps before she looks. She is surrounded by a multi-cultural group of friends.
This is a story that clips right along with clues and suspects, and the story is mainly propelled by a lot of dialogue among the characters. Fans of the John Grisham series Theodore Boone would like enjoy this series also.
Review of an Advance Reading Copy
Content Analysis:
Profanity/Language: None
Violence/Gore: Character falls in a minor accident and bloodies knees,; reference to a character's father being killed in an explosion before she was born; two tween girls feel threatened/frightened by a man and they run into a building; reference to a vehicle accident with injuries; passing reference to prior police/prosecution activities involving human trafficking, no details or descriptions; man threatens two tweens with a sharp object; scene of peril; report someone punched someone in nose.
Sex/Nudity: One character is frequently inquiring of other characters if they have a boyfriend or if a certain person is their boyfriend; girl seems romantically interested in a boy (implied); brief reference to human trafficking (no details, no innuendo); girl hugs boy (in friendship).
Mature Subject Matter:
Theft/Crime, Death of a Parent.
Alcohol / Drug Use:
None
Reviewed By Cindy