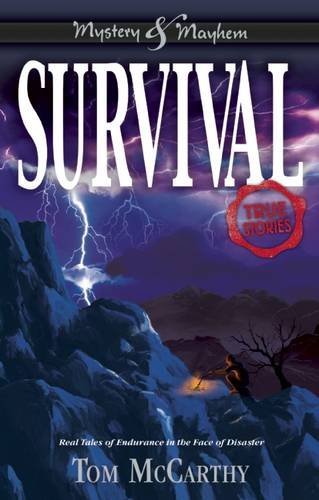 Publisher's Note:
Tales of survival are as old as humanity! In Survival: True Stories, readers discover accounts of survival that required innovation, a thirst for adventure, and even a bit of brutality. Whether it's Shackleton on the frozen landscape of Antarctica or William Bligh and his loyal followers adrift in the Pacific after mutiny on the Bounty, survival is a fascinating topic for readers ages 9 to 12!

Survival is the second book in the Murder & Mayhem series, which features true tales that whet kids' appetites for history by engaging them in genres with proven track records—mystery and adventure. History is made of near misses, unexplained disappearances, unsolved mysteries, and bizarre events that are almost too weird to be true—almost! The Mystery & Mayhem series delves into the past to provide kids with a jumping-off point into a lifelong habit of appreciating history.

Each of the true tales told in Survival are paired with interesting facts about the setting, the industry, and the time period. A glossary and index provide the opportunity to practice using essential academic tools. These nonfiction narratives use clear, concise language with compelling plots that both avid and reluctant readers will be drawn to.
This book was sent to Compass Book Ratings for review by Nomad Press
Mystery & Mayhem: Survival
by Tom McCarthy
Overall Review:
The Mystery and Mayhem series by Tom McCarthy focuses on the adventurous and daring true stories from history, grouping them together in different topics. Survival: Real Tales of Endurance in the Face of Disaster brings five true stories of adventures gone wrong, but that end up having a somewhat happy ending. Each tale is from a different time period and setting, giving the reader stories of adventure from around the world. The survival stories of these men and women (yes, 2 out of the 5 stories are about women) are not only ones of adventure, but stories of bravery, daring, ingenuity and leadership, which ultimately lead to the survival of a doomed crew or company. As Captain Shackleton from one of the stories says, "We must push on somehow", which is one thing these survival stories have in common--they all decided to keep going and thus survive.
All the stories in Mystery and Mayhem: Survival are interesting and well-told. Only one out of the five was one that I had heard of before, so even the most well-read might learn something new. They are written more like a journal entry from the third person perspective and are just quick overviews rather than in depth histories (120 pages total for all 5 stories). Each story has a map at the beginning that highlights important places in the story as well as a brief timeline to help keep things in perspective. At the end of each story is a page with a brief list of what else was going on in the world at the time, helping to place the survival story in the context of history. The only thing lacking is a good list of resources and references used so the reader can continue learning more if they chose to do so. All in all, Mystery and Mayhem: Survival is a quick, exciting read that will whet the appetite of any young reader with the thirst for adventure and bravery.
Review of an Advance Reading Copy
Content Analysis:
Profanity/Language: One religious exclamation; 2 religious profanities (desert compared to the jaws of h*** and also called a h***ish place).
Violence/Gore: Note: All 5 stories are ones of survival and therefore all are extended scenes that are frightening/scary as the people fight to overcome odds against them and live. Mention of frozen fingers breaking off; mention of man walking off to his death in the Antarctic; mention of crew being killed by natives; mention of man being held at gun and sword point; mention of being stoned to death by natives (2 times); mention of men being hanged as a punishment for their crimes; mention of someone finding a dead man in the desert; mention of someone being washed overboard with a baby in her arms; man points pistol at people to make sure he gets what he wants; 1 sentence mentioning a person trying to cut up a dead person and eat it; man puts knife to another's throat in a threatening way; man hits another with a whip; man pulls knife and uses it to kill another; account told of possible cannibalism in the Donner Party.
Sex/Nudity: None
Mature Subject Matter:
Death, surviving under very harsh conditions, cannibalism.
Alcohol / Drug Use:
None
Reviewed By Sally