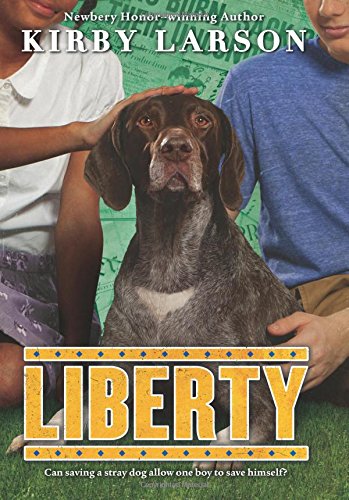 Publisher's Note:
Fish has a knack for inventing. His annoying neighbor, Olympia, has a knack for messing things up. But when his latest invention leads Fish to Liberty, a beautiful stray dog who needs a home, he and Olympia work together to rescue her.

At the Higgins boatyard, where the boats that just might save the Allied forces during World War II are built, the wartime workforce is integrated and includes women and the disabled. However, a friendship that crosses racial lines is not the norm in 1940s New Orleans.

Fish, who suffered from polio and whose dad is away fighting in Europe, looks up to Mr. Higgins, and he's thrilled when one of his inventions helps Mr. Higgins's engineers unlock the mechanics of the landing crafts. Mr. Higgins inspires him to be bold and brave. As Fish enlists the help of unexpected friends and allies to save Liberty, he finds his perceptions of the world -- of race and war, family and friendship -- transformed.
This book was sent to Compass Book Ratings for review by Scholastic Press (A Scholastic Imprint)
Liberty
by Kirby Larson
Overall Review:
In Liberty, award-winning author Kirby Larson brings us another heartfelt novel involving the love of a canine friend. It is a moving historical fiction novel that takes place in New Orleans, 1944. There's a World War going on, segregation and racism are the norm, and polio is still something to dread, and Fish, as he's called, is dealing with it all. This is where Larson shines as an author as she has the ability to bring all of these complex, huge issues into one novel, make them not only simpler so this age group can understand them, but make them relatable to the reader's own life.
Fish relates to them as well because they are all impacting his life in some way or another. At the age of five he contracted polio and now lives with a crippled leg. His dad is off doing his part for the war effort as a mechanic/engineer overseas. His only friend, since he recent move to New Orleans, is the girl next door--who just happens to be black. Fish is a problem-solver though, mostly with inventions, but that is his approach to life as well. When a stray dog finds her way into his life, he figures out a way to make that work, which leads to all sorts of good things. Liberty, his new dog, is an added something to make him work hard at strengthening his leg, to write letters to his dad about, and to strengthen his friendship with the girl next door, Olympia. Another touching addition to this novel is the parallel story of Erich, a German POW, whose story eventually intersects with Fish's, making this novel filled with hope and friendship that can transcend time, nationality and race.
Review of an Advance Reading Copy
Content Analysis:
Profanity/Language: None
Violence/Gore: Man throws rocks at dog intent on doing harm; camp of soldiers gets hit with a bomb, not mentioned but implied is the fact that people died; man pushes girl off of the sidewalk and yells at her; account of woman receiving telegram and her collapsing--implied that she receives notice of the death of someone.
Sex/Nudity: None
Mature Subject Matter:
Death of parent, war, segregation/racism, polio.
Alcohol / Drug Use:
Mention of man smoking cigarette; mention of man passing out cigars in celebration; mention of man smoking a pipe; mention of man smelling of whiskey; man puts cigarette in mouth but does not smoke it; mention of some men drinking beer.
Reviewed By Sally