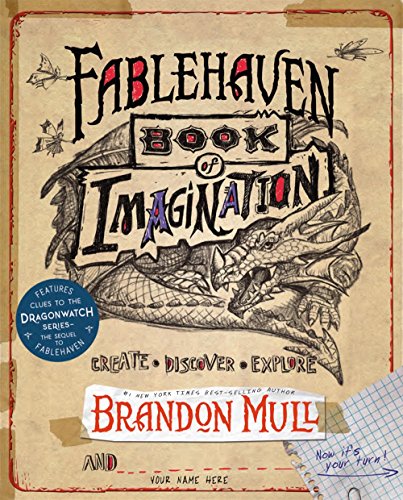 Publisher's Note:
Fablehaven has sold more than 3.5 million copies and readers made "The Caretaker's Guide to Fablehaven," the first visual discovery and definitive guide to all the mythical creatures of Brandon Mull's wildly brilliant imagination, a bestseller in Fall 15. Now it's the READER'S turn to tap into your imagination in the very first interactive guide to Fablehaven!

Tuck this journal into your backpack, tote it along and use it as a fun activity book for all things Fablehaven and to reflect on the mythical creature metaphors found in the series.

Examples: If you owned your own invisibility glove like Seth, how would you use it today?Learn how to draw a dragon s head with step-by-step instructions.You have found the legendary Totem Wall. Choose a face to speak with. What question would you ask?Within the pages of this book are secret codes what will help the reader discover a secret message fromBrandon Mullabout Dragonwatch, the sequel to Fablehaven.Dragons can create paralyzing fear. Imagine your hands and arms were literally paralyzed from encountering a dragon, but you still needed to write a message. Use your feet or mouth to write a note on the page.Create your own art: draw your own magical preserve. Include your home, landmarks, trees, trails, areas to avoid. Where is it located? What is it called?Draw your family pet as if it were a guardian to a hidden, ancient artifact. What special power does your pet have to protect the treasure it is guarding?Fans will also find coloring book pages, mazes, scavenger hunts, and instructions for origami creatues of Fablehaven characters like Raxtus!"
This book was sent to Compass Book Ratings for review by Shadow Mountain
Fablehaven Book of Imagination
by Brandon Mull
Overall Review:
Fablehaven Book of Imagination is an activity book accompanying the Fablehaven novels which are penned by Brandon Mull. In this publication, there is a wide variety of projects and activities. Some involve creative thinking, crafting, construction and/or playing games. In order to provide a better understanding of the book from different perspectives, I turned to my at home review staff. Who better to provide realistic reviews on a children's novel than a team of children?
My fourteen-year old reviewers said there are a few fun things in the book, but mostly it is for younger readers. This did not prevent one junior reviewer from making the recipe for brownies. It was quite tasty. She also thought the Pet Guardian page looked interesting.
The ten-year old who has not read the Fablehaven books says it looks like a lot of fun and she would rate it 4.5. Her other observation was that this book will be better appreciated once she has actually read the Fablehaven series.
Finally, my almost eight-year old reviewer said he thinks it would be "really awesome" to get this for his birthday. His favorite activities are the "cut outs" of creatures.
Based on the aforementioned reviews, there is a little something for everyone in this book, but it appeals most to the younger audiences. Adult might notice that some of the activities are things you have seen before but just rebranded. Other activities are great for tapping into the limitless imagination of children and adults alike. It would be fun to do some of these activities as a family. There are quite a few activities and this would keep children busy for more than just a few minutes.
If you have young ones in your life who love Fablehaven and enjoy thinking about the world of magical creatures, this would make an excellent gift.
Content Analysis:
Profanity/Language: None
Violence/Gore: Reader is to pretend he is paralyzed and imprisoned by a dragon; speculation that poking a dragon with a hot fire poker is dangerous; implication that a griffin would eat a leprechaun; threat that violators will be turned to stone.
Sex/Nudity: None
Mature Subject Matter:
None
Alcohol / Drug Use:
None
Reviewed By Susan