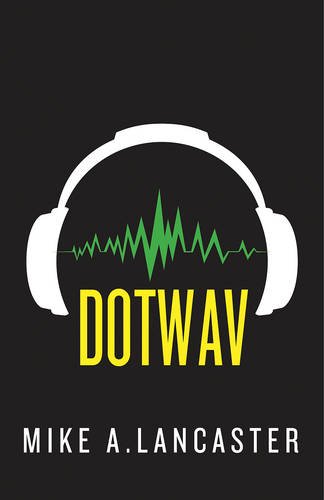 Publisher's Note:
"There's something in that sound. Something bad. Something dangerous."

Fifteen-year-old Ani Lee is a skilled hacker researching a strange .wav file that she's downloaded when it behaves as no file ever should.

Joe Dyson is a seventeen-year-old American transplant recruited into a secret teen division of the British intelligence service who's looking into the disappearance of a friend caught up in an underground music scene that might be more than it appears.

When Ani and Joe's investigations intertwine, they discover that the .wav file and the music are linked—someone's embedding the file into tracks to create a mind-controlled teen army.

But who's behind it? And why? And how do you stop a sound?

An exhilarating sci-fi techno-thriller that blends music, mind control, and conspiracy perfect for fans ofLittle Brother, Brain Jack, and Proxy.

Sky Pony Press, with our Good Books, Racehorse and Arcade imprints, is proud to publish a broad range of books for young readers—picture books for small children, chapter books, books for middle grade readers, and novels for young adults. Our list includes bestsellers for children who love to play Minecraft; stories told with LEGO bricks; books that teach lessons about tolerance, patience, and the environment, and much more. While not every title we publish becomes a New York Times bestseller or a national bestseller, we are committed to books on subjects that are sometimes overlooked and to authors whose work might not otherwise find a home.
This book was sent to Compass Book Ratings for review by Sky Pony Press
dotwav
by Mike A. Lancaster
Overall Review:
Take over the world with a sound file? Sounds completely far-fetched, right? But Mike Lancaster has made it believable. Dotwav is probably one of the best sci-fi novels I have read in quite some time. Let me explain.
Ani is a hacker. She's famous--or infamous depending on how you look at it. When a hacker pal sends her a file and then disappears, she finds herself on the run and dealing with problems she has never dealt with before. Now she's fleeing from unknown entities out to get her and trying to solve the mystery of the file that literally can take over her brain.
Joe's a teenage spy. No, really. Armed with a computer chip that makes him have insane skills at pretty much everything, he investigates the son of a potential prime minister and his former friend. The investigation takes him into a new music realm of X-Core. Music that isn't really music per se, but has the power to move audiences to change.
When Ani and Joe team up they form the perfect dream team. Way too smart, a little bit street savvy, and a whole lot of open-minded. Together they tackle the megalomaniac trying to rule the world--one won't stop even when family is involved.
This was a fantastic read. Audiences that loved Lancaster's previous works will find themselves enthralled all over again. New readers will be left hoping for a sequel. If you're looking for a page-turner to get lost in, this book has all the sci-fi, action, adventure and intrigue that makes a book great.
Content Analysis:
Language: 1 religious exclamation, 2 mild obscenities, 1 anatomical term.
Violence/Gore: Girl recalls when mom broke mirror and pushed the tiny pieces of glass into her own arms (during psychotic break); boy recalls that his friend/partner was shot (no details); reference to JFK assassination; character pushes knuckles into another's thigh; blast of electric energy throws character across room; teen character punches an adult; man repeatedly pulls trigger on empty gun while holding to his head; three fights totaling seven pages where characters punch, kick, hit, break other's noses, twist arms and wrists resulting in injuries; mom attacks daughter while in mental hospital (no injuries); two page creepy scene of worms crawling in man's mouth and out eyes and through brain during alien encounter; car smashes into a guardrail (no injuries); psychotic break of mom described in detail (four pages) where she pushes glass bits into arms and then hugs self, scrubs hands until raw and bloody in sink and is covered in blood.
Sex/Nudity: Teen girl puts hand on teen boy's shoulder in possessive fashion.
Mature Subject Matter:
Death of family member and friend, self-harm, mental illness, car theft, and lots of computer hacking.
Alcohol / Drug Use:
None
Reviewed By Beckie