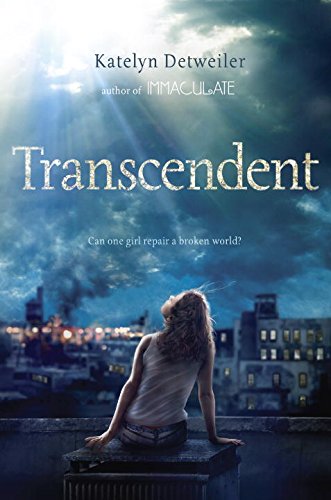 Publisher's Note:
A beautiful work of magical realism, a story about a girl in the real world who is called upon to be a hero.

When terrorists bomb Disney World, seventeen-year-old Iris Spero is as horrified as anyone else. Then a stranger shows up on her stoop in Brooklyn, revealing a secret about the mysterious circumstances surrounding Iris's birth, and throwing her entire identity into question. Everything she thought she knew about her parents, and about herself, is a lie.

Suddenly, the press is confronting Iris with the wild notion that she might be "special." More than just special: she could be the miracle the world now so desperately needs. Families all across the grieving nation are pinning their hopes on Iris like she is some kind of saint or savior. She's no longer sure whom she can trust—except for Zane, a homeless boy who long ago abandoned any kind of hope. She knows she can't possibly be the glorified person everyone wants her to be… but she also can't go back to being safe and anonymous. When nobody knows her but they all want a piece of her, who is Iris Spero now? And how can she—one teenage girl—possibly heal a broken world.
This book was sent to Compass Book Ratings for review by Viking Books for Young Readers
Transcendent
by Katelyn Detweiler
Overall Review:
Just when everyone thinks terrorism in the U.S. can't get worse, the unthinkable happens: a bombing at Disney World. So many lives are shattered and many think all hope is lost but a glimmer is found once Iris is discovered. Initially Iris seems to just be an average girl with little influence beyond her small group of friends and family. Against her wishes she becomes famous (many think she's going to save the world), and it's interesting to see the process she goes through as she discovers what people expect of her and how she deals with it. Iris's support group is amazing though; the characters she surrounds herself with each have the perfect place in the story and in Iris's life. The plot at first seemed like it might get a little sacrilegious, but author Katelyn Detweiler handled it well and didn't go in that direction. It is a clever storyline with interesting execution. I anticipated the story to have more religious overtones but it actually didn't focus on religion as much as it was about accepting and helping others--even if it's not in the way they expect. If you enjoy books about a world that needs saving, this is one you should check out.
Review of an Advance Reading Copy
Content Analysis:
Profanity/Language: 14 religious exclamations; 39 mild obscenities; 5 religious profanities; 4 derogatory names; 35 scatological words; 13 anatomical terms; 25 f-word derivatives.
Violence/Gore: Many (23) brief incidents including character hoping fights don't occur; character wants to punch another; violent metaphors; character thinks another might have committed suicide; characters pretending and wishing others were dead; threats; secondhand report of bombing at Disney World resulting in the death of many, including children; reference to murder and terrorism; secondhand reports of characters dying; rumors that a character is a gang member; character wears shirt that says, "Meat is murder"; secondhand report of character getting knocked unconscious and fakes miscarriage; character receives threatening calls; bullying; character nearly dies; verbal threat and throat cut slightly; character hits another on the head causing slight injuries.
Sex/Nudity: Many (23) brief incidents including secondhand report of characters making out; hugging; kissing; arm around; character carries another; cuddling; touching face; reference to character not having sex but being pregnant; characters throw condoms at another; reference to lesbians; innuendo; reference to sex; character called a whore.
Mature Subject Matter:
Murder, terrorism, homelessness, reference to lesbians, references to suicide and schizophrenia.
Alcohol / Drug Use:
Character smells pot; character wonders if another is selling drugs; references to characters getting drunk; references to characters getting high; adult characters drinking wine and beer both socially and with dinner; character is drunk; smoking.
Reviewed By Jenny