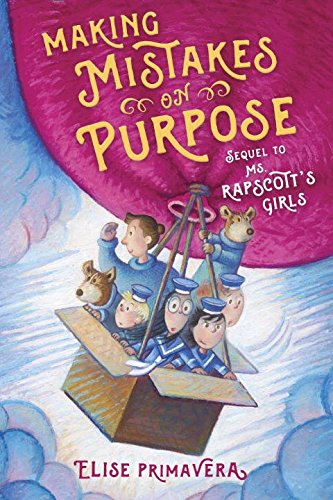 Publisher's Note:
Students at a whimsical school for children of busy parents learn silly lessons about manners, friendship, and going far in life, in book two of the series that's tailor-made for a new generation of Mary Poppins fans

Great Rapscott School for Girls of Busy Parents is not your typical boarding school. Students arrive in boxes, birthday cake is served for breakfast, and two very talented corgis assist the rather quirky headmistress. This semester, the girls will learn how to get to The Top, but the semester is not off to a good start. One of the girls doesn't make it back to school and when her friends try to rescue her, they wind up at the Bottom of the Barrel. Luckily, Ms. Rapscott knows that learning to fail is the secret to Going Far in life.

Complete with charming black-and-white illustrations, this sequel to Ms. Rapscott's Girls is full of, warmhearted lessons, spirited adventure, and good cheer.
This book was sent to Compass Book Ratings for review by Dial Books for Young Readers
Making Mistakes on Purpose
by Elise Primavera
Overall Review:
In Making Mistakes on Purpose, the sequel to Ms. Rapscott's Girls, Ms. Rapscott is back, set on teaching her five students all the things that their busy parents just don't have time to teach them. This time they're reaching for The Top, but along the way they learn they sometimes have to start at The Bottom, sometimes you'll be Terribly Dissappointed and sometimes you miss The Top all together because you don't know what you are aiming for. Author Elise Primavera gives the readers yet another delightfully absurd adventure, full of bits of wisdom, practical advice and characters, in which even though they are somewhat extreme, the reader will recognize bits and pieces of themselves.
In Making Mistakes on Purpose the reader gets to know the boys from Mt. Everbest School for Boys with Busy Parents, the counterpart to Ms. Rapscott's School for Girls. With both schools trying to reach The Top, adventures abound, bad weather prevails, and even headmasters learn something new. Full of magic, absurdity, and common sense, Making Mistakes on Purpose is a delightful continuation of Ms. Rapscott's Girls that will teach the reader to see the world with adventure and wonder. As Ms Rapscott says, "Always remember to wonder and you will never be dull."
Review of an Advance Reader Copy
Content Analysis:
Profanity/Language: None
Violence/Gore: Characters tie a bathrobe belt around someone's wrists to place them under "arrest"; boy says how other boys pick on him; character says she feels like kicking someone in the shins.
Sex/Nudity: None
Mature Subject Matter:
Negligent parents.
Alcohol / Drug Use:
None
Reviewed By Sally