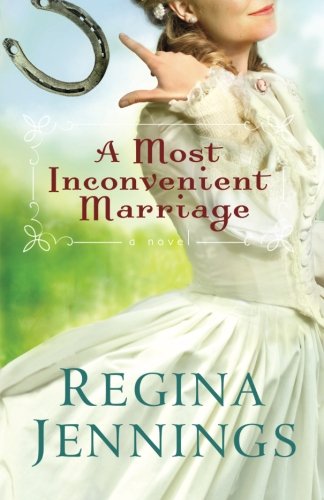 Publisher's Note:
To fulfill a soldier's dying wish, Abigail Stuart marries him and agrees to look after his sister. But then the real Jeremiah Calhoun appears alive!
A Most Inconvenient Marriage
by Regina Jennings
Overall Review:
A Most Inconvenient Marriage by Regina Jennings combines humor, gravity, and historical fiction into one novel. The premise of the book is an interesting one. There are many different levels to this story.
One of the interesting points of the narrative is how every character has something he or she must learn or come to understand. Not one person has everything under control. The author manages to make these lessons seem natural and not bog down the story. Some of the conversations are deep and heartfelt; other discussions are almost comical or nonsensical.
This book takes place in the post-Civil War era and discusses many of the social and economic issues associated with this time period. There are many reflections on wartime events and scenes. Fans of historical fiction will like this aspect of the novel and romantics will find plenty of satisfaction here as well.
Content Analysis:
Profanity/Language: None
Violence/Gore: Characters recollect many scenes from war, including gun battles and injuries, some lethal; an animal's leg is caught in a snare and bleeds; report of people being shot and killed; shots are fired at people, some cause injury; character says another person will kill someone; a character is bleeding profusely; a person hits another; characters are tied up and gagged.
Sex/Nudity: Man takes off his pants in a non-sexual way, but it is misconstrued as sexual; non-married characters kiss and embrace; man is shirtless for bathing.
Mature Subject Matter:
War, death of friends, family, terminal illness.
Alcohol / Drug Use:
Horse becomes inebriated.
Reviewed By Susan