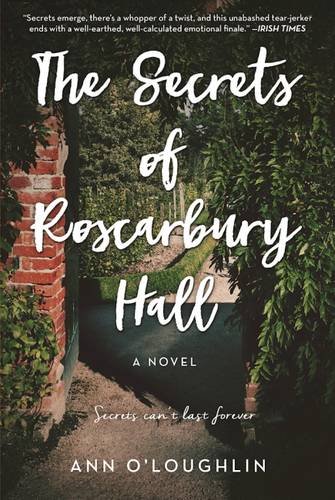 Publisher's Note:
Secrets can't last forever in this heartfelt debut novel, a UK bestseller and contemporaryPhilomena story.

In a crumbling mansion in a small Irish village in County Wicklow, two elderly sisters, Ella and Roberta O'Callaghan, live alone in Roscarbury Hall with their secrets, memories, and mutual hatred. Long estranged by a dark family tragedy, the two communicate only by terse notes. But when the sisters are threatened with bankruptcy, Ella defies Roberta's wishes and takes matters into her own hands, putting her baking skills to good use and converting the mansion's old ballroom into a café.

Much to Roberta's displeasure, the café is a hit and the sisters are reluctantly drawn back into the village life they abandoned decades ago. But gossip has a long life, and Ella finds herself reliving painful memories when Debbie, an American woman searching for her birth mother, begins working at the café. As the local convent comes under scrutiny, the O'Callaghan sisters find themselves caught up in an adoption scandal that dates back to the 1960s and spreads all the way across the Atlantic Ocean. Only by overcoming their enmity and facing up to the past can they face the future together—but can they finally put their differences behind them? An emotionally rich story with flashes of humor, gossip, and tragedy, The Secrets of Roscarbury Hall is a moving debut novel of love both lost and found.

Skyhorse Publishing, as well as our Arcade, Yucca, and Good Books imprints, are proud to publish a broad range of books for readers interested in fiction—novels, novellas, political and medical thrillers, comedy, satire, historical fiction, romance, erotic and love stories, mystery, classic literature, folklore and mythology, literary classics including Shakespeare, Dumas, Wilde, Cather, and much more. While not every title we publish becomes a New York Times bestseller or a national bestseller, we are committed to books on subjects that are sometimes overlooked and to authors whose work might not otherwise find a home.
This book was sent to Compass Book Ratings for review by Skyhorse Publishing, Inc.
The Secrets of Roscarbury Hall: A Novel
by Ann O'Loughlin
Overall Review:
If you are looking for a good, solid story with a whole lot of heart, then you have found the right book. I was quite surprised at the twists and turns this book took, and I am willing to bet you will be also. You can't go wrong with a book about an old house and the women who live in it, with a little bit of input from their neighbors and a surprise guest here and there!
Ireland holds a special place in my heart because my mother's side of the family is Irish, and my grandma always loved to talk about it. Except for some terms and word usage though, I couldn't really tell that this story was set there. Maybe I wasn't paying close enough attention though, as all of my focus was on the characters and what their stories were.
This book mostly focused on two elderly sisters, who are quirky and a bit moody at times. They don't speak to each other, instead writing snarky and mean notes back and forth. (If that doesn't indicate the character of these women, I don't know what will.) From there the story spreads in a few different areas: a young woman searching for her birth mother; the cafe that the more heady sister, Ella, opens; the backstory of some of the key characters.
I especially loved the parts that focused on Ella and her beloved cafe. She saw a way to make money when she and her sister needed it, and depsite her sister's nagging, she decided to go for it anyway. Ella seemed bold and powerful to me, whereas Roberta, the other sister, seemed cowardly and angry. I could really feel the emotions and the thoughts the characters were having. This book was well-written, giving the reader all of the basics of good fiction, with a little bit of mystery thrown in.
Review of an Advance Reader's Copy
Content Analysis:
Profanity/Language: 2 religious exclamations; 1 mild obscenity; 2 derogatory names.
Violence/Gore: A character is mentioned to have been killed in a vehicle crash, drinking may have been involved; a child is mentioned to have drowned; children are stolen from mothers at birth and adopted out to other families; a woman is mentioned to have a serious form of cancer that will result in her death; a man is mentioned to have died in a war.
Sex/Nudity: Prostitution is mentioned; there is talk of women who are unwed having children and giving them up for adoption; an unwed woman is pregnant and there is talk of her having multiple lovers that could be the child's father; adults kiss briefly.
Mature Subject Matter:
War, giving children up for adoption, personal crises, loss of a loved one, missing persons, cancer, extramarital affairs.
Alcohol / Drug Use:
Smoking is mentioned; sherry is drunk by a woman; whiskey is mentioned; drunk driving occurs on one occasion.
Reviewed By Lydia