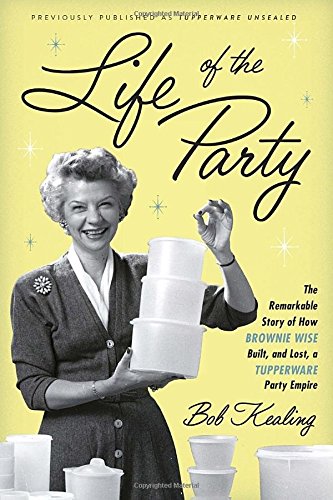 Publisher's Note:
The incredible story of Brownie Wise, the Southern single mother—and postwar #Girlboss—who built, and lost, a Tupperware home-party empire

Before Mary Kay, Martha Stewart, and Joy Mangano, there was Brownie Wise, the charismatic Tupperware executive who converted postwar optimism into a record-breaking sales engine powered by American housewives. In Life of the Party, Bob Kealing offers the definitive portrait of Wise, a plucky businesswoman who divorced her alcoholic husband, started her own successful business, and eventually caught the eye of Tupperware inventor, Earl Tupper, whose plastic containers were collecting dust on store shelves.

The Tupperware Party that Wise popularized, a master-class in the soft sell, drove Tupperware's sales to soaring heights. It also gave minimally educated and economically invisible postwar women, including some African-American women, an acceptable outlet for making their own money for their families—and for being rewarded for their efforts. With the people skills of Dale Carnegie, the looks of Doris Day, and the magnetism of Eva Peron, Wise was as popular among her many devoted followers as she was among the press, and she become the first woman to appear on the cover ofBusinessWeek in 1954. Then, at the height of her success, Wise's ascent ended as quickly as it began. Earl Tupper fired her under mysterious circumstances, wrote her out of Tupperware's success story, and left her with a pittance. He walked away with a fortune and she disappeared—until now.

Originally published as Tupperware Unsealed by the University Press of Florida in 2008—and optioned by Sony Pictures, with Sandra Bullock attached to star—this revised and updated edition is perfectly timed to take advantage of renewed interest in this long-overlooked American business icon.
This book was sent to Compass Book Ratings for review by Crown Archetype
Life of the Party: The Remarkable Story of How Brownie Wise Built, and Lost, a Tupperware Party Empire
by Bob Kealing
Overall Review:
Life of the Party: The Remarkable Story of How Brownie Wise Built, and Lost, a Tupperware Party Empire is a fascinating book. Author Bob Kealing, an award-winning broadcast journalist, provides an extensive, in-depth look at Tupperware's humble origins and inner workings. Written in third person narrative, Kealing combines his research with countless interviews of Tupperware's major players. The book is set during the 1950's, and follows both Wise and Earl Tupper -- inventor extraordinaire -- from their early lives to their fateful showdown over the future of Tupperware. Kealing succeeds in providing unbiased reporting, so readers can form their own conclusions of what really happened. Pick up a copy of Life of the Party before the movie, rumored to star Sandra Bullock, is released!
Review of an Advance Reader Copy
Content Analysis:
Profanity/Language: 1 religious exclamation, 4 mild obscenities, 2 anatomical terms.
Violence/Gore: A secondhand report of violence includes a man attempting to throw acid at a relative (and missing); in a brief, non-detailed scene of violent death, a person dies in a bombing.
Sex/Nudity: None
Mature Subject Matter:
Gender roles, racism, divorce, segregation, alcoholism.
Alcohol / Drug Use:
A character is described as an alcoholic and a drunk; a man is mentioned smoking a pipe.
Reviewed By Rachel