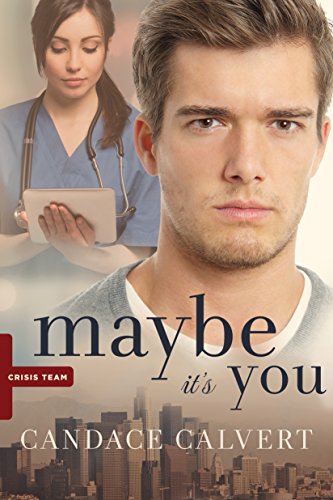 Publisher's Note:
ER nurse Sloane Ferrell escaped her risky past?new name, zip code, job, and a fresh start. She's finally safe, if she avoids a paper trail and doesn't let people get too close. Like the hospital's too-smooth marketing man with his relentless campaign to plaster one "lucky" employee's face on freeway billboards.

Micah Prescott's goal is to improve the Hope hospital image, but his role as a volunteer crisis responder is closer to his heart. The selfless work helps fill a void in his life left by family tragedy. So does a tentative new relationship with the compassionate, beautiful, and elusive Sloane Ferrell.

Then a string of brutal crimes makes headlines, summons responders . . . and exposes disturbing details of Sloane's past.

Can hope spring from crisis?
This book was sent to Compass Book Ratings for review by Tyndale House Publishing
Maybe It's You
by Candace Calvert
Overall Review:
Maybe It's You is the third book in the Crisis Team Series by Candace Calvert. These books are great, because they use accurate medical terminology without overloading the story with professional jargon. The author knows how to balance reality with readability. Lovers of medical romances will once again appreciate Calvert's talents.
The story is emotionally charged on many levels. This is not an easy, light-hearted read about a romantic development. The plot delves into many difficult and thought-provoking topics. The story causes readers to self-reflect and consider how what they have learned can be used to change and improve their lives.
There are some mysterious and sometimes intense scenes. Calvert does not hold back in allowing readers to understand the sad and harsh realities many people face in life. These scenes are done in such a way that readers will feel the gravity of the situations but not have to read graphic details. This book was well-written and quite potent. Although there is much that is unsettling, there are many positive messages in the novel. It is hard to say a book about these topics was enjoyable, but certainly the story was worth taking time to read.
Review of a Digital Advance Reader Copy
Content Analysis:
Profanity/Language: None
Violence/Gore: A man grabs a girl and drags her alongside a car; a medical description of stab wounds and associated blood, this person is already dead; report of a car run deliberately off a cliff, two fatalities mentioned; report of a father striking a teen; a person is found with her throat slashed and gushing blood; report of a person having committed suicide; report of a car burned with a body in the trunk; repot of a knife wound and jaw injury; arson kills several people and destroys part of a building; a house explodes from a fire bomb, no injuries; character has obviously been beaten and is bleeding and coughing up blood; man is face down in a pool of blood from a reported gunshot wound; report that a person has died from injuries; report of a man beating his wife.
Sex/Nudity: Report of a man touching a teen girl's thigh; a person visits a friend who is implied to be a prostitute; a character recalls a man giving a six-year-old small amounts of vodka and sexual abuse is implied, but no graphic details provided; report of a person committing adultery; non-married characters kiss and embrace multiple times.
Mature Subject Matter:
Death of parents and family members, child and domestic abuse, child/sex trafficking, gambling, mob activity, arson, suicide, alcoholism, murder.
Alcohol / Drug Use:
References to several instances in which drunk drivers kill people; a teen is looking for alcohol to drink; report of an adult giving a 6-year old child vodka; a person stinks of whiskey; a woman has needle marks on her arms and drugs are implied; a man offers a woman tequila, but she refuses; report of a woman addicted to prescription drugs; a person is a recovering alcoholic.
Reviewed By Susan