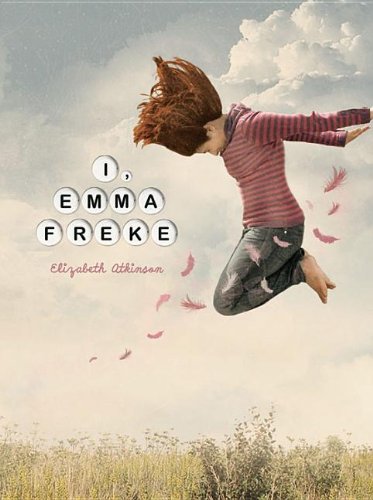 Publisher's Note:
Life wasn't always like this. In fact, when I was younger and shorter and dumber I usually had one or two friends to play with at recess. My grades were good, but nothing special. Then my height and brains took off one summer as if someone watered me with too much fertilizer. Even my dull hair turned redder. To make matters worse--to make matters impossibly worse--my name is Emma Freke. Like, if you say it slowly, Am a Freak.
This book was sent to Compass Book Ratings for review by Lerner Publishing Group
I, Emma Freke
by Elizabeth Atkinson
Overall Review:
We've all felt like we don't fit in at some point, but for Emma Freke (who quips that her mom forgot to say her name out loud before she was born!), it's a chronic problem. Taller than all of her junior high classmates and even some adults, Emma just can't seem to fit in anywhere, until she meets her extended family and learns a thing or two about how to fit in—and that sometimes it might be better to stand out. I, Emma Freke is a sweet and relatable novel about the pain of being different. Although at times the characters and settings felt a little flat to me, I was still engaged by Emma's journey of self-discovery, and appreciated the insights presented in the story. This is the perfect book for a young teen going through the "awkward years" themselves!
Content Analysis:
Profanity/Language: A few religious exclamations and mild terms of derision (nothing offensive) between teenagers.
Violence/Gore: There are a few scenes where mild violence is used in a comedic manner—a (humorous) story is told about a man fighting a grizzly bear; characters who are angry with each other start a fight, which is described in a silly and humorous way.
Sex/Nudity: A character's mother is unmarried, and several references are made to her having had numerous boyfriends over the course of her daughter's life. A woman flirts with a man. Two preteens have a conversation speculating about who one of the girls' fathers is. A preteen says that she doesn't like talking about "that gross sex stuff."
Mature Subject Matter:
Not fitting in, mild child neglect, a brief allusion to homosexuality (a character's parents are implied to be lesbian).
Alcohol / Drug Use:
***
Reviewed By CindyB