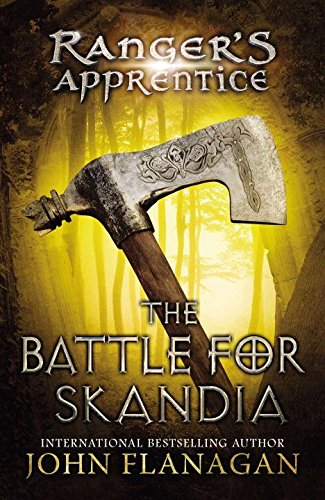 Publisher's Note:
The international bestselling series with over 5 million copies sold in the U.S. alone!

Still far from home after escaping slavery in the icebound land of Skandia, young Will and Evanlyn's plans to return to Araluen are spoiled when Evanlyn is taken captive. Though still weak, Will employs his Ranger training to locate his friend but soon finds himself fatally outnumbered. Will is certain death is close at hand, until Halt and Horace make a daring last-minute rescue. But their reunion is cut short by the horrifying discovery that Skandia's borders have been breached by the Temujai army - and Araluen is next in their sights. Only an unlikely union can save the two kingdoms, but can it hold long enough to vanquish a ruthless new enemy?

Perfect for fans of J.R.R. Tolkien's Lord of the Rings, T.H. White's The Sword in the Stone, Christopher Paolini's Eragon series, and George R. R. Martin's Game of Thrones/A Song of Ice and Fire series.
Ranger's Apprentice Book 4: The Battle For Skandia
by John Flanagan
Overall Review:
Full of heroic action, the characters really lived up to their reputations in this fourth book in the series. The author, John Flanagan, has built a solid set of characters who continue to face new challenges yet never stop growing in maturity.
In this story, two enemies come together over a devastatingly common threat. Getting out of their comfort zones and learning to trust each other, they fight back tenaciously against those who would wish them harm. Being dauntless men and women of courage, our main characters strive to sharpen their skills and to protect the world around them.
The primary motive of this book is based around an unwanted war, yet the author has done a marvelous job keeping the age demographic in mind. (See below content review.) One consideration is that innocent women and children are not killed; the women do help with battle preparations, but the deaths in the story are contained to the warriors on both sides, including horses.
The swashbuckling action keeps the story moving quickly and there is enough suspense to keep readers of all ages interested.
Content Analysis:
Profanity/Language: 12 mild obscenities.
Violence/Gore: Animals caught in traps and implied that they were eaten; capture and imprisonment of teen girl; attempted execution by sword; many adults killed with arrows (in skirmishes), minimal details of arrows hitting bodies, minor details of blood; many adult warriors hit by arrows but only wounded, minimal mention of blood; war fighting techniques taught; mention of acceptable human losses in war; sword fights; talk of torture; vow to kill a family in revenge; slaves beaten; war between 2 countries, multiple chapters long, minimal details of death by arrows, swords, & axes; death of hundreds of men in battle, mention of wounds and death but no lengthy details of blood and gore; multiple horse deaths, minimal mention of gore but mention of horses screaming in pain; adult men go crazy on battle field and kill many, no details but pride shown in ability to kill so many in battle; death of man with mention massive number of wounds, minimal blood mentioned.
Sex/Nudity: Reference to concubines and plural wives.
Mature Subject Matter:
Drug use & addiction, slavery, war, weapons (axes, swords, & arrows), traitor/treason, death from war, captured by enemy, lying, forgery, loss of will to live, death, conquest of nation, poisoning, stolen theft, concubines, multiple wives, personal beliefs in God (life/death), funerals, animal deaths.
Alcohol / Drug Use:
Teen drug addiction; mention of adults drinking alcohol.
Reviewed By Beth