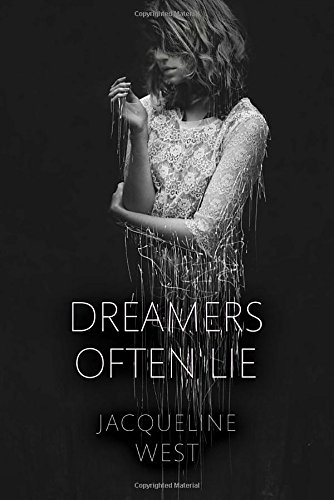 Publisher's Note:
Liar meets Romeo and Juliet in this Shakespeare-inspired young adult novel about whether to trust yourself when everyone is telling you your instincts are wrong—for fans of Holly Black, Laini Taylor, and Black Swan, by New York Times bestselling author Jacqueline West.

Jaye wakes up in the hospital, disoriented, and beset by a slippery morphing of reality into something else. She repeatedly sees a boy who she feels like she knows—but that's impossible. Determined to get back to school and back to A Midsummer Night's Dream, in which she's starring, she lies to her sister, her mom, and her doctors—she's fine, she says. She's fine, she's fine, she's fine. But then on her first day back, she takes a seat in class . . . next to the mysterious boy. Queasy with anxiety ("I can't see you," she hisses at him, "because you're not really here"), Jaye realizes this boy is, in fact, real. And he has no idea what she's talking about. Caught between this fascinating, empathetic new kid and her childhood friend turned recent love interest, Jaye begins to notice unnerving similarities between her circumstances and those of some of Shakespeare's most famous plays. Tingling banter and clandestine meet-ups give way to darker, muddier incidents. As things escalate to a frightening pitch, how much of what's happening is real, how much is in Jaye's head, and how much does it matter as she's hurtling toward a fateful end over which she seems to have no control?
This book was sent to Compass Book Ratings for review by Dial Books for Young Readers
Dreamers Often Lie
by Jacqueline West
Overall Review:
The premise of Dreamers Often Lie is intriguing and the plot has promise. The author attempts to intertwine a serious skiing accident resulting in head injury with the plots of three popular Shakespearean plays with a modern setting, but the effort fails to work as seamlessly as it could.
First, the reader needs to be very familiar with both the plots and lines from these plays--the target audience is probably not. Secondly, the transitions between reality and play scenes are clunky and often confusing--perhaps this is intended to mirror the confusion of the character, but it doesn't work well. The exposition takes much too long, and the reader becomes bored with scene after scene that is impossible to follow or understand.
There is a clever romantic relationship mirroring that of "Romeo and Juliet" (and sometimes the settings of "Hamlet" and "A Midsummer Night's Dream"), but again, most young readers will probably not get the obscure references. The reader who does will be rewarded with a suspenseful ending--wondering if the real story will end like the play. But the resolution cuts off too quickly and the reader is left not knowing enough to be satisfied. It almost feels like a cliff hanger before a sequel. There are no known consequences for the antagonist, which is also highly unsatisfying.
The dialogue is natural and the writing is skillful, but the plot difficulties make this a book one most young people won't enjoy. The serious Shakespeare buff or aspiring actor might find Dreamers Often Lie a fun twist on a beloved classic.
Content Analysis:
Profanity/Language: 66 religious exclamations; 8 mild obscenities; 1 religious profanity; 1 scatological word; 7 anatomical terms (mostly in a Shakespearean context).
Violence/Gore: A character is injured, comes in and out of consciousness, and mentions seeing or smelling blood (2 times); a character remembers or imagines seeing critically injured people with some gore (4 times); a character is reported to have beaten a person up (2 times--once with injuries); a frog is dissected in science class; a character relates stories of past fistfights (no injuries); a character imagines a bloody sword fight; characters fistfight with no serious injury; a character threatens another character (non-specific); 3 characters are critically injured in a car crash (no specifics, some gore).
Sex/Nudity: Characters flirt (2 times); characters hold hands (twice); a character kisses another character's hand (twice); a character caresses another character's arm; a character is romantically embraced by another character; a sketchbook is found with nude drawings inside; characters kiss (4 times); character discuss their first kisses (elementary age); a character states that he does not want to stop at kissing.
Mature Subject Matter:
Death of a family member, rape (referral), family problems, bullying, school truancy, breaking of parental and school rules.
Alcohol / Drug Use:
Drugs are mentioned; teens smoke marijuana.
Reviewed By Leslie