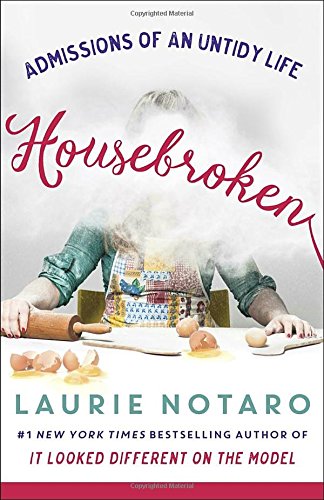 Publisher's Note:
#1 New York Times bestselling author Laurie Notaro isn't exactly a domestic goddess—unless that means she fully embraces her genetic hoarding predisposition, sneaks peeks at her husband's daily journal, or has made a list of the people she wants on her Apocalypse Survival team (her husband's not on it). Notaro chronicles her chronic misfortune in the domestic arts, including cooking, cleaning, and putting on Spanx while sweaty (which should technically qualify as an Olympic sport).Housebroken is a rollicking new collection of essays showcasing her irreverent wit and inability to feel shame. From defying nature in the quest to make her own Twinkies, to begging her new neighbors not to become urban livestock keepers, to teaching her eight-year-old nephew about hoboes, Notaro recounts her best efforts—and hilarious failures—in keeping a household inches away from being condemned. After all, home wasn't built in a day.
This book was sent to Compass Book Ratings for review by Ballantine Books
Housebroken: Admissions of an Untidy Life
by Laurie Notaro
Overall Review:
Housebroken: Admissions of an Untidy Life is a series of essays by New York Times Bestselling author Laurie Notaro. The essays all have a similiar theme of homemaking and family, and vary in length from three to twenty pages. Notaro is a veteran writer and this latest novel is a quick and easy read.
While Notaro is entertaining, she is extremely sarcastic and dramatic in her storytelling. Jokes and subject matter are limited to a few topics, which then repeat themselves over and over. Notaro is crass in her word choice and bathroom humor is prevalent in almost every chapter. Readers will want to check Housebroken out from the library (rather than purchase), to see if Notaro's humor even strikes them as funny.
Review of an Advance Reading Copy
Content Analysis:
Profanity/Language: 25 religious exclamations; 7 mild obscenities; 7 religious profanities; 7 derogatory names; 38 scatological words; 35 anatomical terms; 2 f-word derivatives.
Violence/Gore: Reports of violence include animal slaughter, honor deaths and physical altercation with a bully.
Sex/Nudity: An incident of kissing; a few non-sexual depictions of nudity including a character getting out of the shower; a few sexual references and implied incidents of sexual activity.
Mature Subject Matter:
Homelessness, smoking, drinking, producing and using drugs, body image.
Alcohol / Drug Use:
Characters smoke and drink; a character is described as drunk; frequent mention of drug use, such as LSD, bongs and "shooting up"; author jokes about frequently "cooking meth".
Reviewed By Rachel