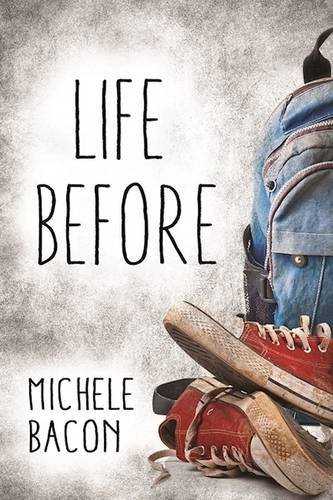 Publisher's Note:
Seventeen years is a long time to keep secrets, and Xander Fife has gotten very good at it. Everyone believes he has a normal life and a normal family. If he can just get through this summer, he'll start his real life in college with a clean slate--no risk, no drama, no fear.

Even better, his plans for summer are awesome: lots of pick-up soccer, relaxing afternoons with friends, and an epic road trip. Xander is banking on some long overdue nights with his ideal girlfriend, the amazing Gretchen Taylor.

Instead of kicking off what had promised to be an amazing summer, however, graduation day brings terror. His family's secrets are thrust out into the open, and Xander must confront his greatest fear. And survive doing so.

Armed with a fake ID, cash, and a knife, Xander skips town and assumes a new identity. Hundreds of miles from home and in danger, one thing is clear: Xander's real life is already in progress and just getting through it isn't enough.

Fans of Ellen Hopkins's Burned and Smoked, as well as Matt de la Pena's We Were Here will be drawn to Michele Bacon's debut.
This book was sent to Compass Book Ratings for review by Sky Pony Press
Life Before
by Michele Bacon
Overall Review:
Contemporary fiction facilitates hard realities in Michele Bacon's YA debut novel, Life Before. Told in first person, teen protagonist Xander is preparing for college, ready to begin what he believes will be the start of his real life, ready to leave his old one behind. His days of dealing with abuse at the hands of his father are all but in the past, but a new reality strikes and now he is running for his life.
"Right now, I need to disappear. In shorts and a navy T-shirt, with a ball cap pulled casually over my face. I look like any other guy.
Any other guy, analyzing every single car on the road to ensure I haven't been followed. Any other guy with two ID's –one genuine, one fake – running scared from a murderer."
Launching with a mysteriously gripping preface, the author quickly snatches readers' attention, but what starts off strong, slowly becomes a catch and release maneuver instead of a steady pull.
He killed once, and now he's stalking me, waiting me out, watching my every move. I have no choice I have to skip town.
This is a mainstream novel. It isn't overflowing with heart, nor is it sincerely disingenuous. It just...is. The protagonist shies from being truly akin to readers, while the antagonist also lays out of reach from emitting strong feelings. With a stop and go pace, this reader had a hard time connecting to anything the author produced – character, circumstances, or place. When it comes to tackling heavy topics like murder and abuse, as this novel did, there needs to be something the reader can really grab hold of to insight powerful reaction, and this spark fizzled out.
There were a few side stories and minor characters at play that felt more compelling than the one the author focused on. These surface more than midway into the book, and sadly for me, they weren't enough to compensate the story as a whole.
"Sitting in the sunned grass, legs crossed, holding ...hands, I share the whole story.
She listens intently, and my life feels real. This life, right here. Right now."
If you are a reader who is desires a contemporary fiction with a male point of view, this novel is a pretty good bet, but if you're wanting that, and a knee-jerk reaction you may want to check out the following titles: Being Henry David, by Cal Armistead and Send, by Patty Blount.
Content Analysis:
Profanity/Language: 27 religious exclamations; 42 mild obscenities; 2 religious profanities; 1 derogatory name; 51 scatological words; 22 anatomical terms; 13 F-word derivatives. Note: Anagram for scatological word and f-word not tallied.

Violence/Gore: Incident of murder and abuse mentioned throughout the novel; brief remark that character has killed before and is now stalking another character; report child witnessing spousal abuse (2x); character remarks that their mother playfully smacked them; report of past injury implying abuse (3x); implication that children heard sexual abuse going on between adult parents; mention of character's parent's injuries inflicted from domestic abuse; character tells other character of past incidents of abuse revealing pictorial documentation; character playfully punches another character; parent threatens violence on child (about 2x); character listens to what he/she believes is male punching female character; threat of violence; teen child finds their parent dead, apparently murdered by former spouse; character has violent dream; threat; character punches door in frustration; character plays app that includes bombs; character is rumored to be a killer; underage teen becomes intoxicated and accidentally hurts themselves; extended scene (about 3 pages) character kicks at another character, character tackles character, velocity causes them to go through window, character threatens the other character with a knife, becomes enraged with urge to kill.
Sex/Nudity: Female teases that male character is naked under the sheets, implying she has seen him nude before; male thinks female is hot, wants to date her; girls at school are said to wear extremely short miniskirts; female's shorts leave little to the imagination; couples are said to be nuzzling; male admires how jeans accentuate female's behind; male kisses girlfriend; sexual reference; implication that children heard sexual abuse going on between adult parents; characters discuss whether a couple is making out; male think female is sexy; reference to male genitalia (3x); teen couples retire to set up tents; sexual joke; extended scene (about ½ page) teens kiss, male thinks about touching female in places normally covered by a bathing suit; mention of male seeing sex scenes on television; mention of virginity; extended scene (about 1 page) characters kiss, discuss kissing, touch each other; characters kiss and hold hands; character reminisces about kissing and touching another character; remark on woman's large fake breasts; mention of nudity, implication of extra marital affairs (2x); mention of seeing mother in bra; mention of making out; sexual references (2x); remark of female character being half nude and implication of possibly more than making out; hug and kiss; extended scene (about½ page) characters discuss other characters bathroom habits; joke about being naked; mention of character using fake ID to see NC-17 rated movie; male character thinks about female character's rear-end; remark about porn; mention of pornographic magazine, implication of masturbation; character is revealed to be a homosexual; mention of character's sexual desire; teen female tells friend about having sex with male character, not details, use of condom; male admires female's body; teen male accidentally sees adult female nude as she helps her use the restroom; mention of sexual references made in a piece of poetic literature; extended scene (about ½ page) character admits that certain music arouses them sexually, male thinks about female without her shirt on; music is described as sexy; extended scene (about ½ page) characters dance intimately with one another touching each other; male wishes to make out with female; extended scene (about 1 page) teen female character tries kissing teen male character, removes their shirt and propositions with sex; kiss; characters touch and kiss; extended scene (about 1 page) revealed that woman got pregnant on purpose, male is revealed to be a philanderer; characters kiss and hold hands (2x).
Mature Subject Matter:
Spousal abuse, child abuse, murder/death/death of family member, teenage run-away.
Alcohol / Drug Use:
Mention of teens using fake ID's to enter into club, they smell of marijuana; teen uses fake ID to drink alcohol in public; joke about drinking; parent buys and supplies alcohol at underage teen's party; mentions of teens drinking/getting drunk; minors smoke; few mentions of beer; underage teen becomes intoxicated and accidentally hurts themselves; underage character wonders if another character smokes marijuana.
Reviewed By MaryLou